Badrinath Temple is a famous Hindu temple located on the banks of Alaknanda River in Chamoli district of Uttarakhand state of India. Nestled between the Nar and Narayan mountain ranges, Badrinath Temple is set against the backdrop of the mighty Neelkanth Mountain and it is known for its stunning natural beauty. This temple is dedicated to the Hindu deity of Vishnu, and the place is one of the most sacred places described in the religion and is also one of the parts of Char Dham Yaatra (four important pilgrimages- namely Yamunotri, Gangotri, Kedarnath and Badrinath) and Panch Badri (other four badris are- Adi Badri, Vridha (old) Badri, Bhavishya Badri and Yogadhyan Badri).
The Badrinath temple worships "Badrinarayan", a form of Hindu deity Vishnu. The temple has a black stone idol of Lord Vishnu which is 1 meter tall and is believed to be one of the 8 Swayam Vyakta Kshetras (self-manifested images) idols of Vishnu. It is also mention in the 108 Divya Desams dedicated to Lord Vishu in India.
It is an ancient temple whose evidence of its construction is in the 7th-9th century. The city around it is also called Badrinath after the name of the temple itself. Geographically, this place is situated at an altitude of 3,133 meters above sea level, in the Garhwal region.It is said that after having darshan of Lord Kedareshwar Jyotirlinga, seeing Lord Nar-Narayan in Badri area destroys all the sins of a man and he also gets liberation-in-life. The same intention has also been expressed in Koti Rudra Samhita of Shivpuran.
The temple remains open only for a limited period of six months of the year (end of April to beginning of November) due to the harsh weather conditions of the Himalayan region during the winter season. It is one of the busiest pilgrimage centers in India, about 10.6 lakh pilgrims were recorded here in 2012. The two festivals of Mata Murti Ka Mela and Badri Kedar are another reason for you to come here.
What is Badrinath temple famous for?
Badrinath is famous among devotees and tourist as Char Dham Yaatra (other three dhams are Yamunotri, Gangotri and Kedarnath), pilgrimage and Panch Badri (other four Badris are- Adi Badri, Vridha (old) Badri, Bhavishya Badri and Yogadhyan Badri).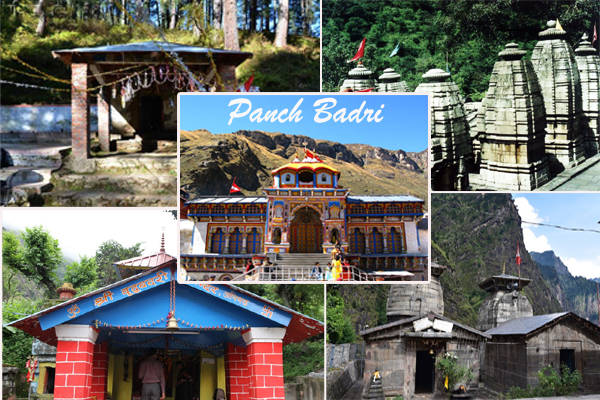 History and Mythology about Badrinath Temple
The history of Badrinath temple is unclear. According to one belief, this temple was a Buddhist temple till the 8th century, after which Adi Shankaracharya converted it into a Hindu temple. Another belief is that the temple was originally established by Adi Shankaracharya in the 9th century. It is said that he discovered an image of Lord Badrinath in the river Alaknanda and installed it near Tapt Kund.
In the 16th century, the king of Garhwal shifted the idol to the present temple. At the time of partition of Garhwal state, this temple came under British rule. It was expanded by the kings of Garhwal in the 17th century and in 1803, it was destroyed in a major earthquake and rebuilt by the king of Jaipur.
There are many stories related to Badrinath temple. According to one legend, when Lord Vishnu was searching for a suitable place for his meditation, he liked this place very much near Alaknanda. Lord Vishnu incarnated (avataar) in the form of a child near Neelkanth mountain, and started crying. Mother Parvati's heart was melted after hearing his cry and she tried to persuade him by being present near the child and the child asked her for a place to meditate. This holy place is currently well kown by the name of Badrivishal.
Best time to visit Badrinath Temple
Badrinath Temple Kapat (door) remains shut down for around six month (Nov to April) due to heavy snowfall. Although, the temple can be visited only for six months (May to Oct). It is believed that May to June is the best time to visit Badrinath as there is almost no rain during this time and you can enjoy a bit of chill even in summer.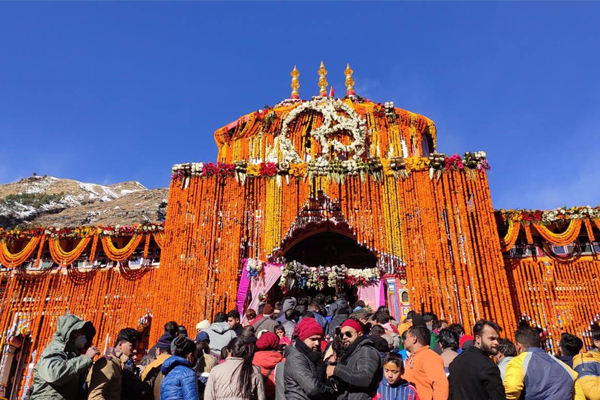 Opening and closing time of Badrinath kapat
The temple remains closed for worship on the auspicious day of Bhatraditiya in October. On the day of closure, an Akhand Jyoti lamp is lit for last six months and the image of Badrinath is shifted to the Narasimha temple in Jyotirmath. Badrinath reopens every year on Akshaya Tritiya, an auspicious day in April.
In open days, the daily worship rituals at the Badrinath Temple begin early in the morning, with the Maha Abhishek at around 4:30 am and end with the Shayan (evening) Aarti at around 7:00 pm but it opens for the general public for darshan around 6 am and has a break in the afternoon between 3-5 pm.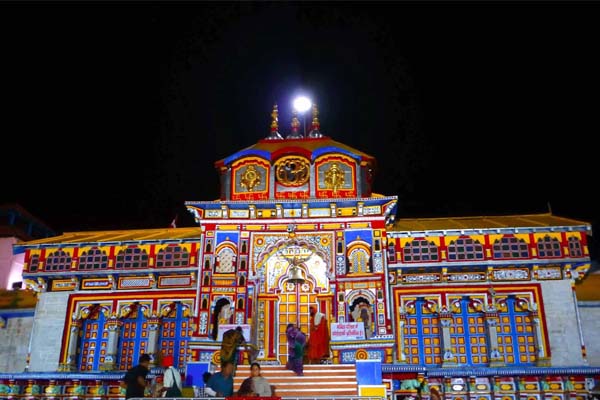 How to Reach Badrinath Temple
By Road – Badrinath , situated in Chamoli (district of Uttrakhand) which is very well connected to rest of India through network of Roads. From Delhi you can reach Rishikesh and Dehradun. You can take buses from ISBT of Dehradun and Rishikesh to chamoli.
By Train – Rishikesh Railway Station is the nearest railway station for Badrinath which is 285 km away from it and many trains connect to Rishikesh from various cities of India.
By Air – The nearest airport for Badrinath is jolly Grant Airport Dehradun and helicopter services are also available from Dehradun to Badrinath.
Places to visit in Badrinath
Tapt Kund is such a religious place where you can see the wonder of nature. You must have understood from the name Tapt Kund that we are going to talk about hot water. The water of the Kund located here remains warm throughout the year, no matter how cold it is.  This kund is situated between the Badrinath temple and the Alkananda River. The hot water spring here is in the Badrinath Temple. Tapt kund is a natural spring of hot water which contain medicinal stuff and skin cure ailments and it temperature around 45 degrees Celsius. Tapt Kund is at entrance of Badrinath where tourists and devotees take a dip in this kund before visiting Badrinath Temple. Bathing in this kund gives a lot of freshness and all the tiredness goes away.
According to mythology, people believe that  Lord Vishnu blessed to Fire Agni  and made him in the form of kund and burn all the sins of all those who come here.
Narad Kund adorns the holy city of Badrinath which is another major attraction of Badrinath where many devotees prefer taking a bath in the kund before visiting Badrinath temple. Narad kund is sacred place from where Adi Shankaracharya discovered the idol of Lord Vishnu. This kund is a hot water spring which is one of the holiest places in Badrinath. In spite of being surrounded by snow-capped peaks, the water of Narad Kund remains warm. The antiquity surrounding the thermal spring makes this place an emblem of beauty and divinity.
This hot water spring is obtained from Gauri Shila which is located near Tapt Kund. According to Hindu mythology, it is said that Narada Muni wrote the Narada Bhakti Sutra here. That's why this place was named after him.
Charan Pauka is a rock at a height of 3380 feet and is located on Narayan Parvat which is just 3km away from Badrinath. You can come here by on foot and which will take hardly 1.5 hours to come here. According to Mythology, people believe that it is sacred rock having the footmark of Lord Vishnu's feet. This rock is viewed as a religious site visited by thousands of tourist and devotees every year. In hindu, the word Charanpaduka drived in two word Charan and Puduka , Charan refers to feet and Paduka refers to Footmark.
Mata Murti Temple is a holy Hindu temple situated at a distance of 3 km from Badrinath. This Devi temple is located on the right bank of the Alaknanda River. The Mata Murti Temple is devoted to Mata Murti – the mother of Nar and Narayan (lord Badrinath) where every year on the eve of Shravan Dwadashi or Vaman Dwadashi, a fair is organized in the Mata Murti temple. Apart from this, many devotees visiting Badrinath also worship the Mata idol during the yaatra.
Devotees can reach the Devi temple by completing a short and easy trek of 30 minutes to an hour from the Badrinath temple.
Mana Village (Last Indian village)
Mana is the last Indian village in the Himalayas from the border of India and Tibet/China. It is located in Chamoli district at an altitude of about 3219 meters above sea level. This village is situated on the banks of Saraswati River and it has been designated as a "Tourism Village" by the Government of Uttarakhand. Mana village is the best tourist attraction near Badrinath, it is just 3 km away from Badrinath town. This village is famous for its scenic beauty surrounded by the Himalayan hills which offers stunning view
Bhim Pul is situated in Mana, the last village on the border with Tibet. It is 3 km from Badrinath and is built over the river Saraswati.
It is believed that Bhima (one of the Pandava brothers) built this natural bridge for his beloved wife Draupadi. According to Hindu mythology, it is said that this was the place from where the Pandavas started their journey to heaven called Swargarohini. During this journey, Draupadi was unable to cross the river then Bhima lifted a huge rock and placed it between the valleys. Later this bridge came to be known as Bhim Pul. The bridge is located opposite the Vyas Cave in Mana village and offers a breathtaking view of the ancient valley.
This cave full of mysteries is known as 'Vyas Cave'. Although, it is a small holly cave, but it is said that thousands of years ago, Maharishi Ved Vyas had compiled the Vedas and Puranas by staying in this cave. It is also believed that Ved Vyas composed the epic Mahabharata with the help of Lord Ganesh in this cave. This mysterious cave is in Mana village near Badrinath.  A unique feature of the cave is its ceiling which resembles the pages of a script.
 Near the holy town of Badrinath, Vasudhara Falls is one of the most attractive places to visit in Uttarakhand. Vasudhara Falls is located 9 km far away from Badrinath, whose water flows into the Alakanda River. This mesmerizing waterfall falls from a height of 400 feet about 122 meters above sea level and the place is near Neelkanth, Chaukhamba and Balakun moutains.
People believe that only those who are clean, pure and free from impurities can enjoy the heavenly beauty of Vasudhara Falls. Although, it is a remote destination but the pure beauty and serene atmosphere of this waterfall will tempts you.
Vasundhara Falls can be reached by trekking for 9 km. The first 3 km from Badrinath to Mana village is a motorable road and can be reached by taxi while the remaining 6 km is a walk of about 2 hours. The trek becomes a bit difficult after passing the Saraswati temple at Mana village. The views of the Vasundhara river valley during the trek are breathtaking.