Bedni Bugyal grassland has an altitude of around 11,686 feet from the ground. This alpine grassland lies along the Northern edge of Almora, Nainital, Gwaldam and Kausani hill stations. The mountain Trishul standing tall and dense against the clear blue skies makes a picture-perfect scene.
The best part of this place is the breathtaking views the beautiful valleys and mountains. A bunch of surprises, the experience of traveling through the dense forests of this trek is simply amazing. When you walk through the lush green shades of forest cover, you come across wide open lands-of expanding green carpets.
Bedni Bugyal is on the way to Roopkund near Wan village. Trishul and Nanda Ghunti can be seen clearly from here. This lush green grass lands are enrich with blooms in a wide range of varieties. There is a small pond named Vaitarani ( Bedni Kund), situated in the middle of the grasslands. This hill station includes a rich variety of Flora, the area includes 'Brahm Kamal' or Saussurea Obvallata.
What is Bedni Bugyal famous for?
Bedni Bugyal is a wonderful place for the ones who love adventure and nature. This is a very popular trek among the adventure enthusiasts. The area is surrounded by a lake which is another attraction for the trekkers and the tourists.
Mainly, bedni bugyal is popular pilgrim site for the Hindus. It is presented as a sacred pilgrim place where Maa Nanda and Lord Shiva are praised by the devotees. The pilgrims carry the palanquin of Maa Nanda from Bedni Bugyal to Roopkund during the famous and known Nanda Devi Raj Jaat yatra which happens once in twelve years.
Bedni bugyal has a religious significance, and it is mainly famous for the religious happenings and events which are done there. And also it has some eye-catching and heart-winning views which are famous among the tourists.
Bedni bugyal is famous among the tourists and pilgrims for trekking, grasslands, high altitude, camping, and for religious beliefs.
Best time to visit Bedni Bugyal
The gorgeous and wonderful grasslands of Bedni Bugyal are amongst the most beautiful alpine grasslands of Uttarakhand. It is situated at the border of Garhwal and kumaon in the Chamoli district of Uttarakhand.
The unbeatable trek of bedni bugyal passes through the velvet grasslands and the dense evergreen forests hold on to the sharp slopes and hills.
The best time to visit Bedni Bugyal is between MAY-NOVEMBER, as these seasons are best for trekking, and also these months are of good weather not too hot not too cold. Trekkers need a smooth and dry walking area and these months are moderate and best for the trekkers that's why these months are the best to visit Bedni Bugyal, so any type of miss-happening must not take place during the trekking to the tourists.
Trekking need a good weather without any compromise to the safety of life and health, the mid of year is the best time to enjoy, and adventure.
The trek is of 35kms/ entire trek, the grade of the trek is easy and it starts from Lohajung, and its duration is 6 days.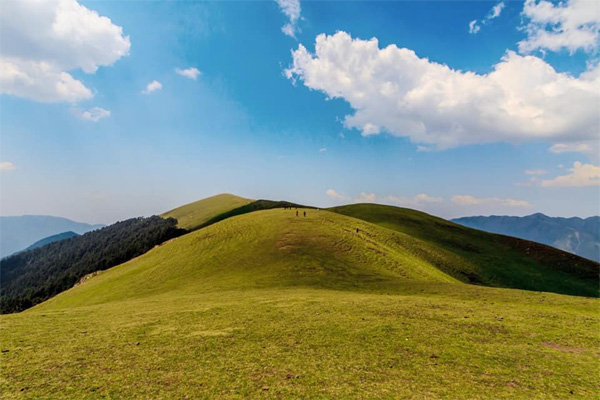 Must Know Before Travelling To Bedni Bugyal
Bedni Bugyal is famous place for adventure, trekking, camping, grasslands, meadows. And is also famous for the religious rituals that happens once in twelve years.
This is an exploring place for the nature and peace lovers, before going there you must have some preparations done before, so that you must not face any kind of problem during the trek.
There are some points you must be familiar to as this trek is 6 day long trek, you must be fully aware about the information of the place you're going to visit and trek.
Bedni bugyal is situated in the chamoli district in the Garhwal region of state Uttarakhand.
Lohajung is the starting point or we can say the base site of this trek, one can also start the trek from wan village which is 12 kms from Lohjung which is reachable by the road.
The trek is of 35 kms in distance
It is easy grade of trekking, and can be completed in 6 days.
Bedni bugyal are widespread grass lands and are at the altitude range of is 3300-3600 mts.
The best time to visit Bedni bugyal is between May-Nov, to watch the lush greenery on the carpet of grasslands, and wildflowers growing in richness. You can watch best of this in June and September.
You must carry some needful equipments or items for this trek route which are mentioned below:
Trekking shoes- keep comfortable shoes for a good grip on the grassy lands.
Backpack- Keep rain cover, Torch, Sunglasses, Water Bottle, packed food items, etc, which you will need during trek.
Clothing- 2-3 warmers, cap gloves, jacket, trekking pants, socks, muffler,etc.
Others- Keep some dry fruits, some chocolates, and protein bar, to give you strength and keep you warm, and also don't forget you camera to capture memorable videos and photos during the trek.
Temperature during daytime will be around 15⁰ to 20⁰ and during night it will fall down to sub zero to 5⁰ Celsius.
You will only find network till Lohjung, once you move forward there will be no mobile or internet connectivity up there.
How to Reach Bedni Bugyal
BY ROAD – Bedni Bugyal is situated in the Chamoli district of Garhwal region in Uttarakhand. It is very well connected to rest of India through network of Roads, From Delhi, Haridwar, Dehradun and Rishikesh. Buses are available directly to Chamoli and from there you will also find services of bus, tracker, for the particular place.
BY TRAIN – The nearest railway station is Kathgodam Railway station which is 224 Kms away from the Bedni Bugyal and many trains connect to Kathgodam from various cities of India like Rishikesh, Haridwar, Dehradun and Delhi.
 BY AIR – The nearest airport for reaching Bedni Bugyal is Pant Nagar Airport (258 kms).