Chakrata is a famous small hill town near Dehradun in Uttarakhand. It lies between the Tons and Yamuna Rivers, at the height of 2,118 meters and 98 km away from the state capital, Dehradun. Chakrata is known for its coniferous forest, trekking route, caves and ancient temple. The area of Chakrata is enclosed by plenty of conifers, rhododendrons and oaks trees, the red blooming rhododendrons are mostly found in this area.
With mountaineering being a popular activity in Chakrata, it is also becoming a popular destination for camping. With some beautiful waterfalls especially Tiger fall, Chakrata is heaven for nature lovers.  Chakrata is a pictorial spot away from the crowd and pollution in the cool climate which is blessed with natural bounteousness and panoramic lookouts of nature. Chakrata is a delightfull city which is far away from the hustle and bustle life of city.
In the Beautiful hill town, Kharamba is the highest peak, located at the height of 10,000 feet, surrounded by dense forest and nature's beauty. The forest of Chakrata is rich in varied flora and fauna like deer, panther, wild fowls (bird), etc. Chakrata hill station is an idyllic spot for bird watchers, nature and adventure lovers and wildlife enthusiasts as the place is like a home of nature. This place is the best weekend gateway for backpackers where they can enjoy to the fullest.
What is Chakrata famous for?
Chakrata is famous for its pure and calm environment and also famous for hill station, trekking, adventure activities, weekend gateway, biking, camping, mountaineering, Birds watching, picnic spots and scenic views of mountains. 
Although Chakrata can be visited at any time of the year except rainy season due to slippery road, the peak tourist season for visiting Chakrata is during summer and winter. From April to June is the best time to visit Chakrata, at this time you will get to see large bugyals (grasslands called bugyals in Uttarakhand) in Chakrata where you can enjoy camping if you want. It receives snowfall at the end of winters to beginning of January where you can enjoy snow trek and feel chilling cold throughout the day.  
By Road –  Chakrata is very well connected to rest of India through network of Roads. From Delhi, Haridwar and Rishikesh, Buses are easily available to Dehradun City. Travellers take buses from Dehradun City to Chakrata and then proceed towards Chakrata.
By Train – The nearest railway station is Dehradun Railway Station which is 96 km away from Chakrata.
By Air – The nearest airport for Chakrata, Jolly Grant Airport Dehradun (126 km).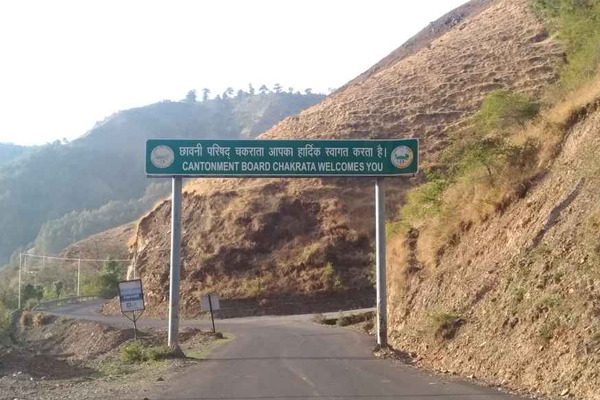 Trekking-  Chakrata trek is one of the ideal spots for trekking which will make your journey memorable. It offers some breathtaking views to the backpackers.
Camping- You can spend a night under the stars in a tent which is one of the most thrilling experiences to have in Chakrata. You can either bring your own tent or rent one from campsite itself.
Photography- It is a perfect place to take pictures and get in touch with nature which will make your journey memorable.
Tips before Travel to Chakrata
Being a military area, Foreigners are required to get prior permission from the Commandant 22 Force c/o 56 APO to visit Chakrata.
Please make sure you have enough fuel because there are no Petrol Pumps at Chakrata. Otherwise, you will have to go 50km back to Vikasnagar.
You will not find any restaurants in Chakrata, so hotels in Chakrata are best option for food.
Check the road condition during monsoon season.
It is good for you, to avoid visiting Chakrata during monsoon season because route can get slippery and area suffer from unexpected landslide and road blocks.
Tiger fall is a hidden gem which is located in the middle of the hilly terrains of Chakrata in Uttarakhand. Tiger Fall is the highest waterfall in Chakrata and is situated at a distance of 19 km from Chakrata.
In local languages, Keraao Pachad and Kailu Pachad are another name of Tiger Fall. Tiger fall is far away from the hustle and bustle life of city. It is a glorious and unaffected waterfall by the commercialization. It is enclosed by the dense forest of red rhododendron and oak trees which offer a scenic view of nature.
End of the waterfall formed a beautiful pond, where a tourist take a bath in cool water and  spends there good time with there friends and family. This fall is one of the major attraction among trekkers as well as a remote picnic spot for local people.
Deoban is situated at a distance of 13 km from the main Market of Chakrata. It is located at the height of 2,200 meter above sea level which offers a scenic view of Himalayan peaks. The Deoban region is a Reserve Forest which is controlled by forest authorities.
Deoban is surrounded by the dense forest of deodar trees which consist a wide species of birds and animals. Deodar forest attracts bird watchers to watch different types of birds like Himalayan woodpeckers, white collared blackbirds, Green Backed lit and some other birds in Deoban. During winter season, visitors can watch migratory birds in Deoban and also see frozen lake too.
By 15 min trek from these forests, Travellers can also visit Vyas Shikhar where Vyasa ji wrote Mahabharata and can see the series of Himalayan ranges and peaks from the Vyas Shikhar.
Chilmiri Neck is located about 3km from Chakrata. It is the highest peak in Chakrata which is surrounded by the lush green deodar forests. Chilmiri Neck offers a magnificent lookout of the Himalayan ranges, Bandarpoonch, Swargarohini peaks are some most notorious mountain peaks which can be easily seen from here. Chilmiri offers ample opportunity for bird watching as well as forests are home to several birds' species, migratory birds in winter and colorful butterflies adding charm of the place.
 Chilmiri Sunset point- It offers a mesmerizing view of the nearby ranges and the sunset, for which Chilmiri is one of the few places in the Himalayas from where the winter-line is visible.
Ram Tal Horticultural Garden
Ram Tal Horticulture Garden is a small garden near a pond which is situated at a distance of 12km from Chakrata on Mussoorie Road. Ram Tal Horticulture Garden is one of the best places for picnic spot in Chakrata. It is surrounded by lush green forest of Apple, Rhododendron and pulam trees. There are several flowers in this garden which show the ample beauty of garden. The smell of blooming flowers and the greenery of the garden give wonderful freshness.
Garden also offers ample opportunity for bird watching as well as home of some special species of birds like Black Headed Jay, Oriental Turtle Dove and Gray Tree pie. Along with bird watching, one can enjoy the marvelous views of hilly area from Ram Tal. If you want to see the beauty of the garden as well as the pond, then you must come and visit during the rainy season as the pond remains dry for most of the year but gets filled with water in rainy season.
Lakhamandal is a famous temple situated around 30 km from Chakrata. This temple is devoted to Lord Shiva. The main attraction of this temple is Shiva lingam which is made of graphite, its shines on pouring water on it.
Lakhamandal is also the place of historical and mythological significance in India. According to Hindu epic of Mahabharata, the Lakhamnadal was the place where Duryodhan tried to kill the Pandavas by potentially making them stay at a palace "Laksha Grah (house made of wax) which was built by the order of Duryodhan (one of  Kauarvas). He burned this palace along with five Pandava brothers. But Pandavas escaped through an underground tunnel.