Chopta is an attractive town of Uttarkhand which is unspoiled and untouched natural destination and is also famed as "Mini Switzerland". It is one of the most famous places for summer and winter vacation in India and also a honeymoon destination. Chopta is visited by tourists throughout the year especially in summers and winter and is always on the top list of any traveler or one who is planning a holiday in Uttarakhand.
Chopta is a very beautiful hill station, situated at an altitude of 8556 feet above the sea level. In Chopta you will get to see the world's highest Shiva temple, this temple is very famous by the name of Tungnath. Tungnath is the third temple of Panch Kedar, located around 3.5 km away from Chopta.
Chopta is popular for Tungnath and Chandrashila trek, at the time of this trek you can see the majestic peaks of Panchachuli, Trishul, Nanda Devi and Kedarnath. Not only this, Chopta is not less than paradise for those people who are fond of adventure.
Chopta wake up you with chirping of birds and cool salubrious breeze. Along with this, it offers you a morning view with crimson rays of sun kissed snowcapped mountains. Chopta also offers a scenic view of snow-capped mountain, lush of greenery and surrounded with pine forest, deodar, rhododendrons and conifers which makes the village rich in flora and fauna including rare species of musk deer and birds. 
Main Attractions of Chopta
Amazing natural beauty
Famous as "Mini Switzerland of Uttrakhand"
Lush greenery all around
Untouched and protected biodiversity
Famous chandrashila trek
Highest shiv temple in the world- Tungnath temple
Rare species of bird watching
Popular snow trek during winter
Sunrise and sunset view points
Peaceful place for Yoga and Meditation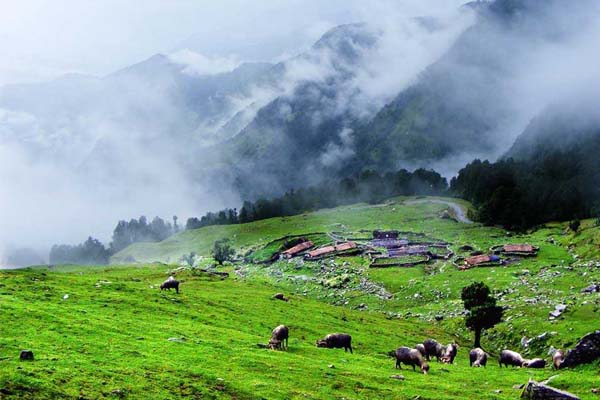 Best time to visit Chopta
Although Chopta can be visited at any time of the year except rainy season due to slippery road. End of December to Mid of March is the snow season in Chopta, at this time, you can enjoy the snow treks here. Along with this, Chopta is perfect for vacation during the month of November to May but in summer season Chopta faces the large number of crowds. That's why, summer (March to May) is the best time to visit Chopta. 
By Road – Chpota is located in Rudraprayag district of uttrakhand which is very well connected to rest of India through network of Roads. From Rishikesh state transport buses are directly available to Rudraprayag. Chopta is situated on the way connecting Guptkashi with Gopeshwar.
By Train – Rishikesh Railway Station is the nearest railway station at a distance of 202 km from Chopta and many trains connect to Ramnagar from various cities of India.
By Air – The nearest airport for Chopta is jolly Grant Airport Dehradun 221 km.
Trekking-  You can trek from chopta to tungnath and Chandrashila trek. Along with this, you can see the majestic peaks of Panchachuli, Trishul, Nanda Devi and Kedarnath during this trek.
Camping –You can do camping in the open grassy fields of Chopta. At night, you can enjoy your snacks and gossip with your friends or loved one's in front of bonfire.
Watching Birds- you can watch some rare species of birds.
Yoga and meditation- You can do Yoga and meditation in this calm environment which is suited for it.
Other Adventure Activities: you can enjoy your day with activities like biking, cycling on the route of Chopta where they offers you a stunning view. You can also capture photographs in the camera for capturing Auli's memories.
Places to visit in Chopta
Tungnath is one of the most beautiful destinations close to the mesmerizing hill station of Chopta. It is located in Rudraprayag district of Uttarakhand at the height of 3690 meters above sea level. Tungnath is the highest temple in the world, devoted to the Lord shiva and comes under the third temple of Panch Kedar where his hands are worshipped. This pilgrimage place located around 3.5 km from Chopta. Pilgrims are only accessible here by trekking and enjoy blissful morning with chants around the temple. Temple offers a majestic view of snow-capped Himalayas, lush green meadows with pine forest. The temple is believed to be more than 1000 years old and it was discovered by Adi Shankaracharya.
Chandrashila is situated at an altitude of 4000 meters above sea level in the Himalayan ranges of Garhwal. Chandrashila is a picturesque tourist destination of Uttarakhand. This place offers amazing views of nearby lakes, meadows, Nanda Devi, Trishul, Kedar, Bandarpuch and Chaukhamba peaks. Chandrashila Trek is one of the most popular trekking routes among the visitors. This route starts from Chopta and covers a distance of 5 km till Tungnath. The constant steep makes the trekking strenuous and difficult. Since this route is closed in winters, trekkers can reach the destination by other routes- Deoria tal – Duggalbitta- Tungnath- Chandrashila.
According to Mythology, Chandrashila is the place where Lord Rama meditated after defeating Ravana, the king of Demons. Another assumption is that the moon god spent time here in austerity.
Deoria Tal is a beautiful tourist destination located at a distance of 49 km from Rudraprayag. Deoria Tal is a wonderful lake surrounding with snow-capped mountain and lush green forests. The waters of this lake reflect the clear image of the ranges of Chaukhamba along with the peaks of Gangotri , Badrinath, Kedarnath, Yamunotri , aand Neelkanth. This lake is situated at an altitude of 2438 meters above sea level, at a distance of 3 km from Chopta-Ukhimath road. This lake provides opportunities for boating, barnacles and various bird watching to the travelers visiting here.
Apart from this, camping and trekking are popular activities for visitors. Trekkers usually start the climb from Chopta, which connects the uphill track to Deoria Tal and the nearby track to Tungnath and Chandrashila.
Mythology about Deiori Tal- According to Mythology, it is believed that the gods used to take a bath in the holy water of this lake and it is mentioned in the Purana as "Indra Sarovar". According to the Mahabharat, Yaksha asked questions to the five Pandavas near this lake.
Ukhimath is an attractive hamlet and a Hindu pilgrimage spot in Rudraprayag, district of Uttrakhand. It is located at the height of 1,311 meters above sea level at a distance of 41 km from Rudraprayag. Ukhimath is a famous hill station which offers great scenery of the Himalayas.
Ukimath is a deeply religious town with spirituality and devotion flowing through its streets that attracts many pilgrims from every corner of our country and it also attracts the foreigners.
Ukhimath is also identified as the home of Kedarnath and Madhyameshwar during winters. Ukhimath is famed for the Lord Shiva Temple because the kedarnath temple remains closed around six month due to heavy snowfall during winter, Utsava Idols established in Ukhimath from Kedarnath and it is worshipped here for six months.
Sari village or Saari Gaon is a beautiful hamlet which is located at the height of 2000 meters above sea level and at a distance of 20 km before Chopta hill station. The village is surrounded by dense forest of Oak and rhododendron trees and lives peacefully in the lap of the Himalayas. In the month of Feb and March you will see trees full of red Rhododendron flower.
Sari village is the base camp for the beautiful lake Deorial Tal which is only 2.5 km away from here. Many times when all the hotels in Chopta are closed due to heavy snowfall after this situation you can get easily hotels and homestays in Sari Region.