Haridwar is one of the 7th holiest pilgrimage sites in India, located in Uttarakhand. The literal meaning of 'Haridwar' (situated on the bank of the holy river Ganga) is – "the gate to reach Hari (God)." This is also mentioned in the Vishnu Purana. Haridwar is located in northern part of India which is called city of religion. For hundreds of years people have been coming to this holy land in search of moksha (salvation).
Leaving behind the hilly areas, the river Ganga enters the plains first at Haridwar. That's why Haridwar is also called GangaDwaar and devotees keep coming here throughout the year to take a dip into the sacred water of Ganga River to wash away their sins.
According to Hindu ritual, there are five pilgrimages – Har Ki Pauri, Mansa Devi, Chandi devi, kankhal and Daksha temple within Haridwar. Apart from this, Haridwar is one of the cities that host the Kumbh Mela which come in every 12 years. In this mela, all the devotees come together and take a dip to remove all their sins. 
Haridwar is also the gateway to the Char Dham which is four pilgrimage site- Yamunotri, Gangotri, kedarnath and Badrinath of Uttarakhand region. According to Hindu, the word Char refers four and Dham refers to regilious destinations. Devotees and old age peoples believe that one should complete the Char Dham in a clockwise direction that will make their whole life become successful and their soul will meet the divine and they can die without any regret because they will get to heaven. 
What is Haridwar famous for?
Ganga River– Devotees believe that they can go to heaven after taking a dip in the Holy Ganga at Haridwar. Haridwar is one of the first major cities in the journey of the river Ganga from the mountains to the plains and that is reason why the water here is clear and clam.
Kumbh Mela-  Kumbh Mela which come in every 12 years. In this mela, all the devotees come together at Haridwar and take a holy bath to remove all their sins.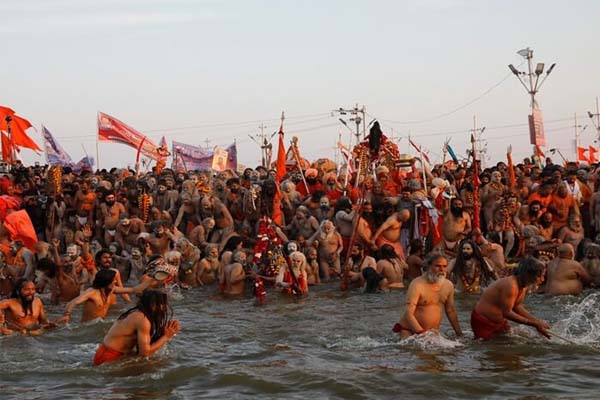 Best time to visit Haridwar
The month of August to October is the best time to visit Haridwar, because at this time the weather of Hardiwar is pleasant and slightly cold, which is considered the best time to visit not only Haridwar but any religious place. March is also a good month to visit because this time weather remains moderate. Although, Haridwar can be visited at any time of the year except during the rainy season due to heavy flow of water.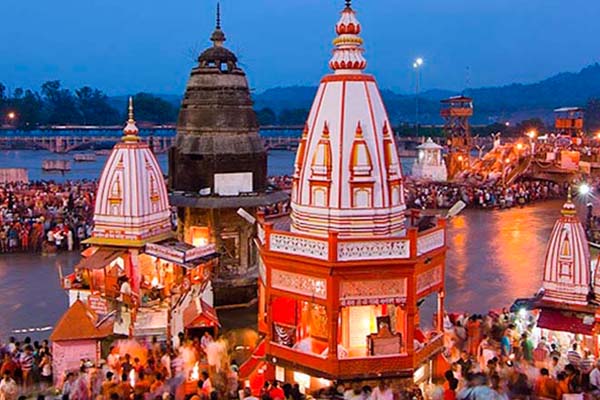 By Road – Haridwar is very well connected to rest of India through network of Roads. From Delhi you can reach Haridwar by own transport via Dehradun or via Rishikesh.  State transport buses are directly available from places like Delhi, Dehradun, Rishikesh to Haridwar.
By Train – The nearest railway station is Haridwar Railway Station and many trains connect to Haridwar from various cities of India.
By Air – The nearest airport for Haridwar is Jolly Grant Airport in Dehradun which is located 37 Km from Haridwar.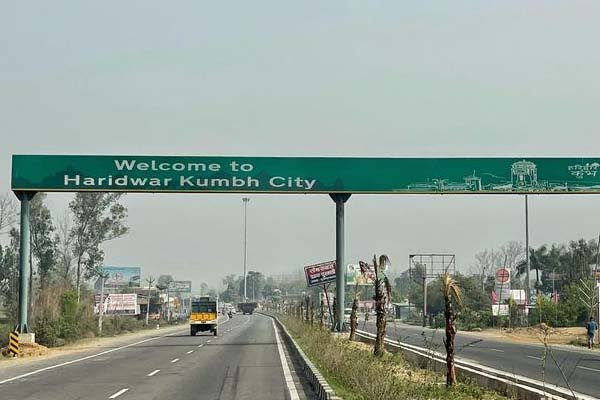 Places to visit in Haridwar
Millions of devotees come to visit Har Ki Pauri out of which you can also be one. Har Ki Pauri is one of the holiest Ghats in India where you can perform all the spiritual activities. It is said that this ghat was built by Vikramaditya in the memory of his brother Bhatrihari.  This ghat is also known as 'Brahmakund'. Although bathing in the Ganga is considered to give moksha (salvation), but the old age people said that by taking a bath in Har Ki Pauri, the sins of births are washed away.
You can also attend Maha Aarti called Ganga Aarti which is organized at Har Ki Pauri in every evening.  Ganga Aarti is performed every evening with thousands of lamps. During Aarti you can witness innumerable golden lamps flowing in the river Ganga from here which makes the river attractive. The light of the lamps and diyaas reflected in the water looks like thousands of stars twinkling in the river Ganga.
Other than this, Har Ki Pauri also host famous fairs like Ardh Kumbh Mela , Vaisakhi festival, Kanwar Yatra and Magh Mela. During this time, lakhs of devotees take bath at Har Ki Pauri Ghat on auspicious days.
The temple of Mansa Devi is built on the top of the Balwa Mountain behind Har Ki Pauri where we can see a beautiful view of Haridwar from the top of the mountain.  The Mansa devi temple is one of the Panch tirths (five pilgrimages) in Haridwar. This temple is a power of Triangle in Haridwar which completes three siddhpeeth with Chandi Devi and Maya Devi. There are two idols in inner shrine of the temple which are worshiped by devotees.
Tourist can reach Mansa Devi Temple by foot or on Ropeway. Ropeway is called as Mansa Devi Udankhatola which is available from Haridwar which starts at 8:00 am to 5:00 Pm. More than 100 tourists come here every day by Udankhatola.
Chandi Devi temple is a famous temple of Hindus, situated at the top of Neel Parvat on the eastern peak of the Shilvalik Hills.  This temple is one of the Panch Tirtha (Five Pilgrimages) located within Haridwar. The Chandi Devi temple is highly revered as a Siddha Peetha. It is believed to be a place where wishes come true. Because of which devotees from every corner of the country come to the court of the Goddess with their wishes. It is one of the three Peeths located in Haridwar, the other being Mansa Devi Temple and Maya Devi Temple.
Chandi devi temple is one of the oldest holy temple in haridwar, where temple is crowed by devotees throughout the year. There is massive participation seen during the festivals of Chandi Chaudas Kumbh Mela, and Navratra. Navratra is celebrated on the victory of good over evil. They worship nine days of Maa Durga and her nine Avatars.
Devotees can be reached here after trekking 3km from Chandighat. Now a ropeway service is also available to reach here. From the ropeway large number of people comes here to visit the temple.
Maya Devi Temple is an ancient religious temple situated in Haridwar , which is counted as one of the Shakti Peethas present in India. It is one of the 52 Shaktipeeths and one of the Panch tirth places, this temple is devotion by the Hindu Goddess Sati Shakti. Maya Devi Temple Is a famous religious center in Haridwar. This temple is dedicated to "Goddess Maya" in the holy city of Haridwar in the state of Uttarakhand in India. It is believed that the heart and navel of the goddess fell in this area where the temple stands today and thus it is sometimes known as Shakti-peeth.  The temple has three-headed and four-powerful deity who is believed to be an incarnation (Avatar) of Shakti. It is one of the three Peeths located in Haridwar, the other are Mansa Devi Temple and Chandi Devi Temple.
Daksha Mahadev Temple is located in Kankhal, 4 km away from the holy city of Haridwar. Witnessing the sacrifice of Maata Sati's life, Maata Sati was believed that her husband (Lord Shiva) had been humiliated by her father (Daksha Prajapati) and then she sacrificed herself in a bonfire of temple. This temple is very popular and ancient, which is known as  in-law's house of Lord Shiva.
This holy place is the main attraction for Shiva Devotees. Daksha Mahadev temple is a temple of Lord Shiva which is named after King Daksha Prajapati, father of Maata Sati.