Kedarnath Temple is a famous Hindu temple located in Rudraprayag district of Uttarakand state of India. The Kedarnath Temple is in the lap of the Himalayan Mountains in Uttarakhand it is included in 12 jyotrilingas and is also one of the Char Dham Yaatra and Panchkedar. Kedarnath Temple is about 1000 year's old temple which has been blessing the Himalayas where lakhs of visitors and pilgrims visit every year.
It is said that this temple is made in katyuri style by joining huge and strong boulders of brown colored cut stones. Kedarnath temple is surrounded by Kedarnath peak, Kedar Dome and other Himalayan peaks. The temple is not only the confluence of mountains but also the confluence of five rivers- Mandakini, Madhuganga, Kshirganga, Saraswati and Swarngauri. Some of these rivers no longer exist, but the Mandakini, a tributary of the Alaknanda, still exists.
Apart from this, Gaurikund is the nearest road which is 16 km away from Kedarnath where pilgrims can only reach here from Gaurikund via trek. Here every year Kedarnath Kapat (door) are closed for six month on the occasion of  Bhaiya Dooj, due to heavy snowfall in the region, the temple is open in summer (April or May) and close when winter starts (October or November). During the rest of six month (Nov to May) the divine is shifted from Kedarnath Temple to Ukhitmath and  is worshipped there. Kedar is alternative name of Lord Shiva and it's believed that the journey of Kedarnath provides "Moksha (salvation)" and gets freedom from all sins.
What is Kedarnath temple famous for?
Kedarnath temple is famous among devotees and tourist as Chaar Dhaam Yaatra, panch kedar and pilgrimage. It is also recommended destination for family, couple, foreigners, etc.
History & Mythology about Kedarnath
According to mythology, it is believed that Nar and Narayan Rishi, the incarnation (avtaar) of Lord Vishnu, used to do penance on the Kedar Shringa of the Himalayas. Pleased with his penance, Lord Shiva appeared and gave him a boon to live forever in the form of Jyotirlinga.
According to another believed that Pandavas felt guilty for killing their cousins (Kaurav) after the battle of Mahabharat which is held in Kurukshetra (Haryana). So they want pardon from Lord Shiva for their sins but Lord shiva was incensed with them. First Pandav went to Kashi to meet Lord Shiva where they find and know he was in Himalayas. Then they proceeded for the Himalayas but shiva did not want to pardon their sins easily. Therefore, he hide himself as a bull and went to Guptakashi. After that they reached Guptakashi following shiva and saw a unique bull. Bheema (one of the Pandvas) grabbed the tail of the bull and the bull was crumbled and appears in different directions such as Tungnath, Rudranath, Kalpeshwar, Madhyameshwar and kedarnath. It is said that its hump appear in Kedarnath, hence the Kedarnath temple was born here which was build by the Pandavas where they blissful to lord shiva with their austerity. The remaining parts of Lord Shiva appeared at 4 other places that are worshiped. The face of the lord appeared at Rudranath, arm at Tungnath, belly at Madhyameshwar and hair appeared at Kalpeshwar. Therefore with these four places, kedarnath  is called Panchkedar.
In 8th century the temple was reconstructed by Maha Rishi Adi Shankaracharaya, when he visited this place. Unhappily the kedarnath town was destroyed by the floods during June 2013. It did suffered major damage.
Best time to visit Kedarnath
Kedarnath Temple Kapat remains shut around six month (Nov to April) due to heavy snowfall. Although, Kedarnath temple can be visited only for six months (May to Oct). It is believe that May to June is the best time to visit Kedarnath as there is almost no rain while visiting at this time and you can enjoy a bit of chill even in summer.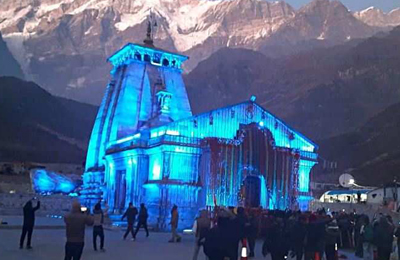 Opening and closing time of Kedarnath kapat
In open days, the daily worship rituals at the Kedarnath Temple begin early in the morning, with the Maha Abhishek at around 4:00 am and end with the Shayan (evening) Aarti at around 7:00 pm but it opens for the general public for darshan around 6 am and has a break in the afternoon between 3-5 pm.
Few Tips for kedarnath Temple Trek
Start your journey early in the morning to avoid the heat of the day.
Carry umbrella and raincoat according to the weather.
Walk with shoes with good grip and try to carry only essentials things in your bag as a heavy bag can slow down your speed in the trek and an extra load can hurt your back.
Carry a water bottle with you but do not throw it here and there while respecting nature.
Must know before you visit Kedarnath
Pre-registration is necessary for kedarnath yatra. Devotees can visit the official website of Uttarakhand Kedarnath Devasthanam Mangement Board to register themselves.
Sonprayag is a major town near Gaurikund which is well connected by buses and is full of hotels.
Devotees can visit Kedarnath temple via helicopter and return on the same day as daily helicopter service at regular intervals from Phata Village near Sonprayag, Sirsi and Guptkashi helipads. Online helicopter service for Kedarnath Temple can be booked in advance.
Accomodation facilities are available at both Phata and Kedarnath.
By Road – Kedarnath temple can only be reached by an easy trek of 16 km from Gaurikund which is last motorable road from Kedarnath. Gaurikund is very well connected to rest of India through network of Roads. From ISBT Kashmiri Gate in Delhi, buses are easily available to Rishikesh and Srinagar. Travellers take buses from major destination of Uttarakhand like Rishikesh, Dehradun, Haridwar, Srinagar, etc. to Gaurikund. Gaurikund lies on NH 109 which connects Rudraprayag with Kedarnath.
By Train – Rishikesh Railway Station is the nearest railway station and many trains connect to Rishikesh from various cities of India.
By Air – The nearest airport for Kedarnath is jolly Grant Airport Dehradun; helicopter services are also available from Dehradun to helipad at Phata village in Kedarnath and also the town of Agustmuni in Rudraprayag.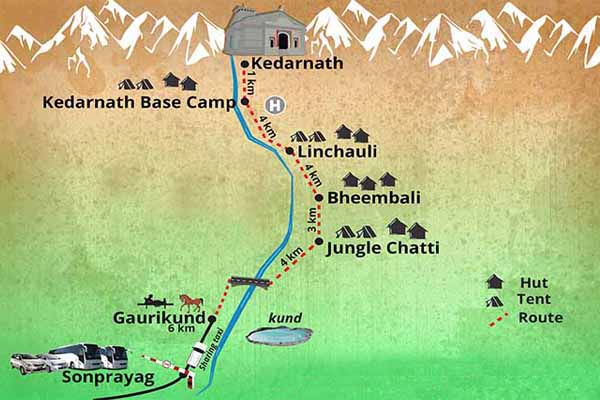 Places to visit in Kedarnath
Gauri kund is a holy place which is devoted to Goddes Parvati also known as Maa Gauri. In the Gaurikund temple has an sculpture of Goddess Parvati which is located in Guptakashi, on the way to kedarnath temple at the height of 2000 meters above the sea level. The town is always covered with snow-capped mountains and lakhs of visitors and devotees visit here every year.
After the terrible flood of june 2013, the original trekking route Garikund to Kedarnath was completely vanished.  Now, the trek has improved and completely safe with all facilities by the efforts of the Nehru Institute of Mountaineering (NIM).
According to mythology, this is the place where Maata Parvati had done austerity here to win over the love of Lord Shiva.
Vasuki Tal (lake) is situated at a distance of 8km from Kedarnath  at the height of 4135 meters. This lake is situated amidst the spectacular Himalayan ranges and is an important tourist destinationTravelers can enjoy the beauty of Chaukhamba Peak situated near the lake. Travelers have to cross Chaturangi and Vasuki glaciers to reach this place.
It offers a scenic view of the nearby Chaukhamba Peaks. Brahma Kamal and flowers blooming around this lake who makes it heaven.
 According to Mythology: It is said that Lord Vishnu came to  this lake at the occasion of Rakshabandhan Festival to take bath  that  why its named as Vasuki Tal.
Sonprayag town is located in the Rudraprayag district at the height of 1829 meters above the sea level and it is situated on the bank of Mandakini River meeting Basuki River. This place is 19km away from Kedarnath.
Sonprayag is a holy place where the numbers of devotees and tourists come here. It is believed that devotees can achieve Vaikund Dham with the touch of water. Therefore, the people take dip in this river to remove their sins. This place offers a majestic view of river with snow-capped mountains which look beautiful and attractive.
Bhairav Temple is located at south of the Kedarnath temple at a distance of 500 meters from Kedarnath Temple. Bhairav temple is also called Bhairav Baba Mandir. The weapon of the lord Bhairav is Trisula and his vehicle is a dog. It is one of the most popular temples in Kedarnath. The place offers the scenic views of Kedarnath temple and Kedar Valley. Devotees and tourists visit Bhairav Temple during the visit of Kedarnath Temple for taking blessing.
According to Mythology, during winter Kedarnath Kapat remain shut for around 6 months every year due to heavy snow fall that time, Bhaivanath Temple guards the kedarnath temple area along with entire kedarnath valley.
Gandhi Sarover is a small crystal clear water lake which offers scenic views of the Himalayan Peaks. It is also identified as Chorabari Tal because it is located on the entrance of Chorabari Bamak Glacier but the original name of this lake is Kanti Sarovor. During 1948, some ashes of Mahatma Gandhi were engrossed in this lake after which this lake was named as Gandhi Sarovar.
It lies on the base of Kedarnath and Kirthi Stambh peaks at the height of 3,900 meters above the sea level and at a 3km walking distance from kedarnath Temple. You can also visit the Bhairav Temple by on foot during the visit of Kedarnath Temple.
According to Mythology, It is believed that Lord Shiva conveyed the knowledge of Yoga to the Saptrishi.