Lansdowne was established in 1887, as a camp of the Britishers, who were fascinated to its pleasant climate, and is named after the, then viceroy (ruler) of India, Lord Lansdowne. Today, it is known as the headquarters of the Garhwal Rifles of the Indian Army.
Lansdowne is a hill station in the northern Indian state of Uttarakhand. It is one of the quietest and unspoiled hill station of India and has been popular destination since the Britishers came to India. Surrounded by the dense oak and blue pine forests Lansdowne appears like an old painting. Located away from the rush off the city, Lansdowne is one of the ideal re-treat for the holiday makers.
Lansdowne is not like any other hill station, as it is well connected with motorable roads, but it Is remote in its own way. It is located at an altitude of 1780 mts above sea level, and is covered with thick oak and blue pine forests in the Pauri Garhwal District of Uttarakhand state.
A peaceful town with old-world colonial charm, Lansdowne is an preserved area of lush greenery nestled in the Himalayas. Charming Churches, Flora, springs, and ponds, surround the entire hill station. You can explore this small town on foot, with a lake at its centre, while enjoying the natures beauty  with walks, discover hidden temples and churches or just enjoy around the mountain views.
What is Lansdowne famous for?
Lansdowne was a important place of the activities of freedom fighters from British Garhwal during British period. Currently, the famous garhwal rifles of the Indian Army has its regimental centre here. So it is the most amazing thing you will get to see by visiting there.
This town has been famous since the British came to India, for its untouched nature's beauty, some beautiful mountain views. Lansdowne town itself has many other places, where people go and visit and enjoy their trip or day out. There are Religious, Historical, places some beautiful parks and playgrounds waterfall, ale, and many more thing but mainly it is the Indian army's Regimental centre, frfom which Lansdowne is known.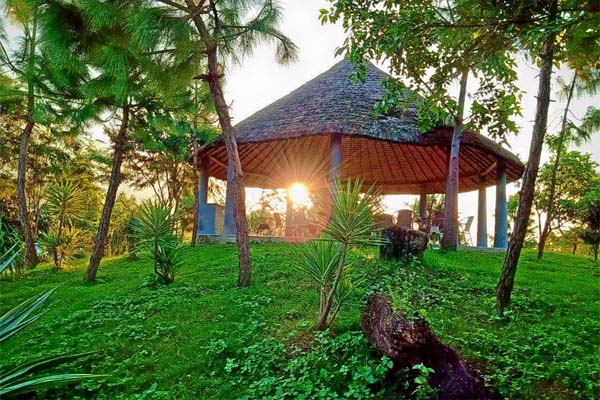 Best time to visit Lansdowne
Lansdowne is a destination with amazing scenic views, one will never regret of visiting here. Dehradun is 79 kms and Haridwar is 54kms away from Lansdowne and give good bases to explore the region. It can be visited in any month of the year, but visiting it in winter season is a good time. People wear heavy woolen clothes and jackets during this time, and the temperature during winters is maximum 24 degrees C to minimum of 0 degree C. You can get a chance of experiencing snowfall during these days if you're a winter person.
Otherwise, Lansdowne hill station can be visited in any month, to enjoy the greenery, peace and beautiful view of nature.
BY ROAD:  Lansdowne is situated in Pauri District of Garhwal region of state Uttarakhand, India. It is very well connected to rest of India through networks of Roads. From Delhi, Dehradun, and Rishikesh, Buses are directly available to Lansdowne.
 BY TRAIN: The nearest railway station to Lansdowne is Kotdwar railway station, which is 40 km away from Lansdowne and many trains connect to Kotdwar from various cities of India like Rishikesh, Haridwar, Dehradun, and Delhi.
 BY AIR: The nearest airport for Lansdowne is Jolly Grant Airport which is 3hr and 42 min (142kms) away from Lansdowne Town.
PLACES TO VISIT IN LANSDOWNE
Tarkeshwar Mahadev Temple
Located at some 1800 meters at a distance of 38 km from Lansdowne, it is one of the best place to visit aroud Lansdowne. Tarkeshwar mahadev temple is covered by Deodar tress and pleasant atmosphere which also favours it as a best meditation place for sages ( pundits) from long time ago.
A undisturbed, and unspoilt but full with holy faith of Lord Shiva devotees, Tarkeshwar Mahadev Temple is a fine example of "Why Lord Shiva is known as Bhole Nath"! Adding a name of a demon 'TARKESHWAR or TADKESHWAR' with lord shiva Mahadev , this Tarkeshwar mahadev is a temple of deep faith and devotion to the lord shiva.
As per mythology, Tarkasur was a devil who meditated and worshiped Lord Shiva at this place for blessings (boon). Lord Shiva was happy with Tarkasur's immense devotion and worship. He gave the demon (tarkasur) a boon of eternal life as per Tarkasur's request.
On the occasion of Maha Shivratri , Tarkeshwar temple becomes full of devotees, who come from very far away places. Many devotees believe that Lord Shiva is still there and is in very deep sleep.
A small hill top viewpoint, this place is also known as the name suggests is one of the highest places in Lansdowne town. Tip-in-Top is the best of the places in Lansdowne to watch the whole skyline with magnificent Shivalik range.
This place is a perfect one to view some of the eye-catching view of gharhwal hills with awesome Himalayan range at the background.  At a height of 1700 mts, visitors experience the unmatched and unseen beauty of the Lansdowne.
For enjoying the nature and surrounding, to connect with the natural beauty and to feel inner peace , away from hustle and bustle of busy and boring  life routine one can definitely visit Tip-and-top point, to feel stress free for some time.
A historical museum named after first Victoria Cross Holder from Garhwal Rifles Darwan Singh Negi, this museum contains rarest collection of garhwal Rifles. Situated near the parade ground in Lansdowne Pauri Garhwal, the museum was inaugurated in 1983.
It is nicely decorated two storey museum having multiple details about the origin and achievements of the Garhwal Rifles of the Indian Army. Visitors get to see a wide collection of arms, photographs of rare army generals, old uniforms patriots in various wars, certificates and citations signed by the British royalty.
Kids below 10 years are not allowed inside the museum and photography is strictly prohibited inside it. Travelers can also visit a beautiful flower garden just outside the museum, there you can find 10-12 varieties of roses.
A beautiful, small and calm lake known as Bhulla Lake or Bhulla Tal is situated at just 1kms walk from Lansdowne city centre, It is made and maintained by Indian Army , Bhulla Lake is also known as Bhulla Tal among the locals.
It is a perfect spot for picnic and entertainment for a day out in Lansdowne. It is a best place for couples, kids, family and old ones. This lake has very clean and neat environment in between the nature's lap.
It is still not much populated, the lake is a man-made artificial lake. 'Bhulla" in local Garhwali language means 'young brother'. This Bhulla lake is dedicated to the younger youth of Garhwali Rifles who helped in construction of the lake.
Bhulla Lake have a facility of boating with few ducks around as well in the lake water. Duck shape boats are available for paddling on the lake at very cheap and pocket friendly rates. A children's park and amusement park is also located near the lake for the kids fun.
An important historical Catholic Church, St. Mary's Church is situated near Tip N Top Point in Lansdowne. In 1895, St. Mary's Church was built by Col. A.H.B Hume of the royal Engineers. Normal as well as Historian visitors like to visit and explore this jewel in Lansdowne town, St. Mary's Church adds charm and peace to the surroundings.
After 1947 Preaching at the church was stopped due to collapse. The Garhwal Rifle Regimental Centre took over the charges to convert the church. Currently it is a small museum showing old pictures and stories of pre-independence era.
Santoshi Mata Temple is situated In Lansdowne at some height. This small temple is dedicated to Santoshi Mata, there are no priests here and to reach the Temple, one has to climb 100-steps.
In this temple you will get to listen melodious bhajans, played over the speakers during the evening time, and the sunset view is amazing from the temple, it is breathtaking!
You will find peace visiting this place, You will feel positivity and can also find the beautiful view from the height of temple. One must visit Santoshi Mata Temple If going to Lansdowne.
 St. John's Church was established in 1936. A Roman Catholic Church in Lansdowne, St. John's Church is the only ongoing Church in Lansdowne between the way to St. Mary's Church. This Church has beautiful and amazing interiors and peaceful atmosphere.
St. John's Church was kept unused for years in 1951, it was finally handed over to the Government of India in 1951. Refurbished in 1983, now daily prayers are being offered to St. John's Church.
Situated between the green valleys and mountains, this natural waterfall is under the Government authorities who maintain if for tourism.
One needs to buy ticket to visit this waterfall, dogs are not allowed inside, it is mandatory to wear life jackets if one is willing to go in deep waters under the waterfall.
This place has a very serene atmosphere, and is very beautiful to spend your day with family, friends, or loved ones. One will not regret coming here while visiting Lansdowne.
Bhim Pakora is a surprising but also a historic place near Lansdowne, Bhim pakora mainly attracts the visitors through its name. Visitors will get to see two stone one upon another in a perfect balance. The above rock can be moved by one single finger but it never fall down even after pushing it with both of your hands, putting all the efforts and power.
It is located at 2km from Lansdowne city, Bhim Pakora is the most exciting and attractive place in Lansdowne. It is between the forest and can be reached after 2 km trek downhill on a uneven path. As per the mythology, Pandavas's of Mahabharat epic once stayed here for a night during their separation period. Bhim, Who was super powerfull among all the Pandava's  placed one rock on top of the other in a style that is never fall down.
The main thing which attracts the tourists to visit here is to see the magic of the stones at the Bhim Pakora. The power of this place make people believe in the presence of god.