Pauri is a District of state Uttarakhand, in the calm panorama of the attractive Garhwal Himalayas, lies the city of Pauri. It is enclosed by the thick woodlands and the decent snow-clad hills that appear like a silver tiara. If you visit Pauri you will surely get hypnotized by the beauty of this place. The mornings are draped in the romantic tone, the evenings are smoldering while the nights are relaxing and peaceful as one look deep into the eye of the universe.
This city gives a breathtaking view of the snow-capped Himalayan peaks such as Banderpunch, Swararohini, Gangotri Group, Jogin Group, Thalaiya-sagar Kedarnath, Kharcha Kund, Satopanth, Chaukhamba, Neelkanth, Nandadevi, and Trishul.
The lively city also offers exciting treks to the scenic spots. Some of the treks that are commenced by many adventure enthusiasts starts through the Nagadev Forests and other starts from Kandoliya to Ransi Stadium, providing a spectacular and eye-loving view of the pristine valley.
Pauri is a hidden masterpiece, with one of the most beautiful sunset in Uttarakhand. Pauri district of Uttarakhand, is a blend of culture, nature's beauty and lifestyle. This Himalayan District of Uttarakhand state and Garhwal Region is blessed with River's colossal valleys, and snow-bound peaks of mountains. The blessed pines and deodars sing songs of joy here. One can enjoy the beauty of rich wildlife and rosy rhododendron (burans) jungle that surrounds the district.
WHAT IS PAURI FAMOUS FOR?
Pauri is famous among tourists as hill station. Pauri is recommended destination for couples, family, friends group, and kids also. It is famous for trekkers, paragliding and people who love to be surrounded in the lap of nature. Pauri is a town in Pauri garhwal, it is at an altitude of 1,814 meters above sea level, visiting here offers you a wide look at Himalayan peaks of Nanda Devi and Trisul.
People visit pauri due to its pleasant weather and beautiful heart-winning views, flowers blooming in the forests and tourists love to see the greenery and cool weather.
Pauri is famous for many adventurous activities as well as its beautiful surroundings, and also as a hill station where you can enjoy snowfall during winters.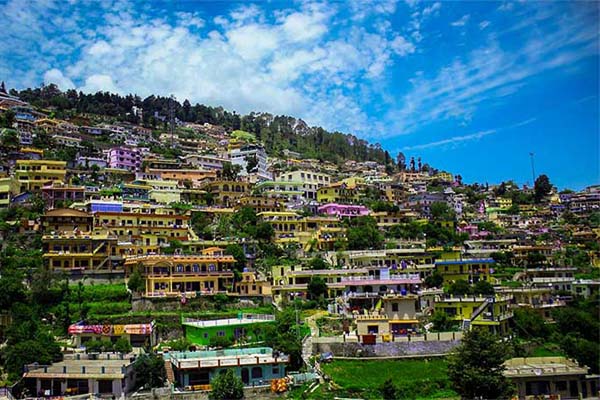 Pauri is a place which is pleasant the whole year, its temperature is sub-normal, but expect during winters when it gets extremely very cold. Pauri receives snowfall during winters, which makes it picture perfect for the tourists to visit.
The best time to visit Pauri is between the month of March-November, as the weather remains pleasant in these months, and in these months you can easily roam around pauri's different tourist places without any obstacle.
Mar-Nov are very moderate in temperature which are the travelling months for the tourists. These months are not so hot even not so cold, as in hills the temperature always remains perfect.
Pauri is a famous destination for tourists, it is a beautiful heaven like place, where visitors come and enjoy this hilly and mountain region the weather, forest, fresh air, nature's beauty, all is which attracts the tourists, once who is finding peace for themselves can come and visit this place, it will calm and relax you mental and physical health.
Not only you will enjoy the view and weather, but also you can enjoy different types of activities in Pauri, that will make your trip memorable for sure.
PILGRIMAGE: Apart from the beautiful and magnifying view surrounded with lush greenery around it, Pauri is also known for the famous Temples that bring out a large number of devotees to those holy places.
Some of the famous temples in Pauri are Kandoliya Devta Temple and Kyunkaleshwar Mahadev Temple. Devotees take blessings from the Lord for success and well-being. Another respected temple in the area is the Danda Nagraj Temple.
HIKING: The heavy hills and valleys in the Pauri region are perfect for hiking and exploring the scenic view of landscape that takes hikers and trekkers around the forests surrounded with pine and rhododendron trees, along river stream.
The wide fascinating view of the snow-topped mountains on a clear day is a cherry at the top for the hikers and trekkers. Some of the famous visiting peaks in Uttarakhand are visible from the point-of-view of Pauri such as Chaukhamba, Meru-Sumeru, and Swargarohini, etc.
PICNICKING: Some spots near Pauri Garhwal are perfect for picnic with your family, friends, and loved ones. The eye-catching view of this location, Pauri have many places to do picnic such as, Khirsu, Chaukhamba view point, these are the perfect location to spend some quality ad memorable tie in the silence and peace of nature while sipping a cup of tea and lots of talks.
FISHING: Mahasheer fishing is a popular leisure activity, in Pauri. Beas Ghat is a popular spot for Mahaseer fishing that not only offers great fishing opportunities but also provides calm and relax in between the serene atmosphere. MARCH-APRIL and SEPTEMBER-OCTOBER are the best time to indulge in fishing at Pauri.
BY ROAD- Pauri is situated in Pauri District of Garhwal Region in State Uttarakhand, India. It is very well connected to rest of India through network of Roads. From Delhi, Haridwar, Dehradun, Rishikesh, buses are directly available to Pauri.
BY TRAIN- The nearest railway station is Kotdwar ( 108) km or Rishikesh (117) km from Pauri and many trains connect to These railway stations from various cities like Rishikesh, Haridwar, Dehradun, and Delhi.
BY AIR- The nearest airport to Pauri is Jollygrant Airport, Dehradun. It is 155 km from the district headquarters.
PLACES TO VISIT IN PAURI
There are many places to visit in Pauri, mainly there are 10 tourist spots where tourists visit and spend their free time. Here you will find list of Pauri sightseeing options which you can plan your itinerary accordingly. Explore the hidden glory of Pauri through this well-researched list.
Ransi Stadium( 2.9kms from Pauri bus stand)
Ransi stadium is balanced at an outstanding altitude of 7000 feet above sea level and is the second highest stadium in Asia. This stadium in Pauri is one the highest where games and tournaments are held frequently. At present, the Pauri stadium is under construction to touch the International standards as envisioned. Matches like Cricket, Football, you can play here with the snow-clad view of Himalayas in the background.
Kandoliya Temple (1.7kms from Pauri bus stand)
A holy place in peaceful nature of dense forest, kandoliya temple is located at just a small distance. In this temple Lord Shiva is the Supreme God worshiped in the temple. Devotees in large number comes to take blessings of Kandoliya Devta throughout the year.
Danda Nagraja Temple (34kms from Pauri bus stand)
It is a popular temple of Garhwal region and a famous place to visit in Pauri. Visitors come from far away to take blessings, Lord Krishna is deity of this temple. Priests and locals believe that Lord Krishna's presence is still there in the temple, and they complete everyone's wishes if one prays sincerely.
Satpuli (54.3kms from Pauri bus stand)
 Extends to some 1000sq. kms, it was a farm-land long time ago. After the dangerous flood of 1952, shopkeeper migrated at the present location. A main centre place for locals or nearby villagers to buy daily need items.
It is a best stop for lunch and resting place for travelers between Pauri and Kotdwar. River at Satpuli also attracts fishermen as its best place for angling and fishing.
Jwalpa Devi Temple (35kms from Pauri bus stand)
Situated at the view of the beautiful hills near the river, Jwalpa Devi Temple has a peaceful environment in its premises. Pilgrims from faraway place come here to pray goddess Jwalpa. Pilgrims believe that if pray with pure heart, Goddess will fulfill all dreams of them. Holy marriages are also conducted here in this temple at no cost.
Nag Dev Temple (3.7kms from Pauri bus stand)
Nag Dev Temple is a Hindu shrine located in the District Pauri Garhwal of Uttarakhand. This Hindu holy place is cocooned between the dense pine and rhododendron forests. This temple is dedicated to Nag Dev the snake god, and is one of the famous attractions of the tourists.
Chaukhamba View Point (4kms from Pauri bus stand)
Chaukhamba view point is a beautiful view point, having some breathtaking view of the foggy Himalayas from this point. The dense oak and rhododendron forests spread over the chaukhamba view point attracts many tourists to lost into the nature. The dreamlike landscape and the variety of flora and fauna found at this place attract the tourists for picnicking here.
Kyunkaleshwar Mahadev Temple (2km from Pauri bus stand)
The architecture of Kyunkaleshwar Mahadve Temple is somewhat similar to that of Kedarnath's. The temple dignifies the idol of Lord Shiva, Goddess Parvati, Ganpati, Kartikeya Lord Rama, Goddess Sita and Lakshman.
The devotees have to cross the thick woodlands and the stairs will lead you to the temple.
Tara Kund Lake (45km from Pauri bus stand)
Tara kund is a small lake resting 2,200 meters above sea level in Pauri Garhwal district of Uttarakhand. Situated in the chariserh Development Area.
This lake is surrounded by lush green trees, flowers and wild-flowers. One can adore spell-binding views of the snow-topped Himalayas from the lake.
Gagwadisyun Valley (3 hrs.)
This valley adjoining the Pauri Divisional Headquarters is a very beautiful valley that has many secrets inside. You can reach this valley by walking or trekking, if you want to roam here and there in the entire valley you will need a vehicle.