PITHORAGARH (The little Kashmir)…
Pithoragarh is a district of Uttarakhand in North India, Surrounded by Nepal in East and Tibet to the North, it is very popular for its natural beauty and is widely known as the "Little Kashmir".
Located at a height of 1,650mts above sea level, Pithoragarh is a small valley about 5kms long and 2kms wide, Kumaoni is the main language spoken there, Hindi and English are also spoken there.
This district has a lot of historical significance. It was one of the main centers of Power during Chand Raja's of Kumaon, from this place, worshipper begin their journey to the sacred shrines of Mansarovar and Kailash. From there you can also get to see the view of snow-topped mountains of Nanda Devi, Panchachuli and Appi of Nepal rom Chandak hill located at a height of 2000mts.
Pithoragarh has many important places to attract tourists such as, Pithoragarh Fort, Kalpileshwar Mahadev Temple, and many such places with some historical importance.
Pithoragarh has been referred as 'Rai Pithora' by the powerful Rajput King, Prithvi Raj Chauhan. In 1364, after being defeated by Bhartpal, the Rajwar of Uku (now in Nepal), Pithoragarh was ruled for the rest 14th century by the three Generations of the Pal dynasty and the kingdom was occupied from Pithoragarh to Askot.
According to the old sacred texts,, Pal dynasty based out of Askot was soon uprooted by the Chands in 1420. At that time Vijay Brahm of The Brahm Dynasty (from Doti) ruled the area as the king.
You can get to see a beautiful view of the Soar Valley and the adjoining Himalayan peaks from this place. Pithoragarh is also known for its famous hills like Nanda Devi East, Nanda Devi West, Trishul, Rajrambha, Hardeol, Bambadhura, Nanakhat, and the amazing Panchchuli group of mountains.
Pithoragarh also show off some impressive glaciers like Ralam, Milalam, Namik, Meola, and Balati Glaciers.
This place is also famous for its wooden, woolen and handicrafts, tourists take interest in these creativity and buy stuff from here.
WHAT TO DO IN PITHORAGARH?
Pithoragarh is a beautiful place surrounded by hills and mountains, greenery around, one can enjoy the heart-loving views of this place, you can enjoy many different adventurous activities in this place which will make your trip memorable and exciting.
Below are some activities you can enjoy while visiting Pithoragarh
TREKKING: The hypnotizing natural beauty that surrounds the valley is awesome. Pithoragarh is the starting point for few of the treks into Kumaon region of state Uttarakhand. Including the famous Kailash-Mansarovar Yatra.
VILLAGE TOURISM: Village tourism will let you learn about their way of life, by walking around the villages. Customs, religion, Festivals, Food, of the locals. There are few villages and towns which one explore before starting their journey of trek to the higher altitudes of Kumaon Mountains.
TEMPLE VISIT: Kumaon Region is very famous for its Temple , there are few temples and shrines in Pithoragarh, which are admired by the locals as well as pilgrims. Nakuleshwar Temple, and Kapileshwar Mahadev Temple, are well known shrines in Pithoragarh.
BY ROAD- Pithoragarh is situated in Pithoragarh district of Kuaon Region in Uttarakhand India. It is Very well connected to rest of India through network of Roads. From Delhi, Haridwar, Dehradun and Rishikesh, Buses are directly available to Nainital.
BY TRAIN- The nearest railway station is Tanakpur Railway Station which is 138kms from Pithoragarh and many trains connect to Kathgodam from various cities of India like Rishikesh, Haridwar, Dehradun and Delhi.
BY AIR- The nearest airport for Pithoragarh is Pant Nagar Airport, which is 241kms.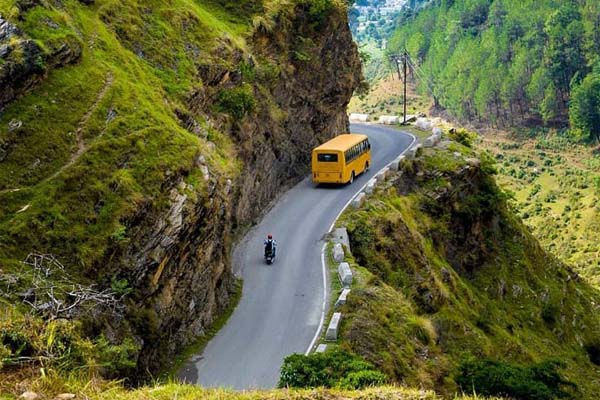 PLACES TO VISIT IN PITHORAGHAR
There are many sightseeing and places to visit in and around Pithoraghar, below are detailed information about places you can visit in Pithoraghar. There are several places to visit for tourists, in Pithoraghar where visitors can spent their relaxing time.
Gangolighat (73.3kms/2hr34min)
Gangolighat is a small town in Pithoraghar district of state Uttarakhand, India. It is famous for its Shakti peeth of 'Haat Kalika' and this temple is dedicated to goddess Kali.
Gangolighat is famous for its ancient temples and underground caves, 'Haat Kalika', 'Ambika Dewaal', 'Chamunda Mandir', 'Vaishnavi Mandir', are special one from there you can clearly get to see the view of Himalayas. Also there are many beautiful caves underground in Gangolighat, 'Patal Bhuvneshwar', 'Shailashwar Gufa', and 'Mukteshwar Gufa' are most visited and known one.
Arjuneshwar Temple (10kms/24 min)
Arjuneshwar Temple is a famous temple of Lord Shiva in Pithoraghar town. It is believed that the temple is built by Arjun-one of the pandavas and a leading archer.
This religious temple is situated at 6000 feet above the sea level. This temple can be visited any time of the year but the best time to visit is in the month of April-July, because winters and monsoon are not much favourable seasons to visit Pithoraghar.
Nakuleshwar Temple (4kms/15min)
Nakuleshwar Temple is a well known sacred temple located near Pithoraghar. The Khajuraho architecture style fascinates many historians and tourists towards the temple.
Nakuleshwar refers to Lord Shiva- the Lord of Himalaya, as per myhthology this temple was constructed by brother pandavas Nakul and Sahedev.
Pithoragarh Fort (7kms/ 15min)
Pithoraghar fort is a historic architecture situated on a hilltop in the border of the Pithoraghar town. This fort was built by Gorkhas during Chand period in year 1789.Tourists can also enjoy the view of Kali Kumaon from the fort. 
Pithoraghar is full of beautiful scenes and viewsw, which will melt your heart, many interesting places also, Pithoraghar is one of them.


Thal Kedar Temple (16kms/ 39min)
Thal kedar is a holy temple of Lord Shiva near Pithoraghar situated at a peak. This temple is situated at a distance of 16kms from the main town of Pithoraghar.
This place is famous for its beautiful scenic view and for the sacred Shiv Linga. According to the geolosits of Himalayas, The Dolomite rock(shiv linga) is approcimately 1000 million years old equal to that of Maa Vaishno Devi.
Every year on the occasion of Shivratri at big Fair is held in Thal Kedar that attracts large number of tourists, locals and devotees here.
Dhwaj Temple is a very famous and known temple in Pithoraghar, and is located at an elevation of 2,100 meters above sea level. This temple is easily accessible as it is 10 k by road from Pithoraghar. This temple is also known as the home of snow leopards and Himalayan black bears.
Kapileshwar Mahadev Temple (2.8kms/4mins)
Kapileshwar mahadev temple is located in the village Takaura and Takari of Pithoraghar.  This particular temple is dedicated to Lord Shiva and is 10 meters in the dark cave. According to famous hindu mythology, a sage named Kapil used to meditate in this cave.
Naini Saini Airport (5.7kms/ 15min)
Naini Saini Airport is located in beautiful town of Pithoragarh. It is also known as Pithoraghar airport.
Pithoraghar town is situated in the upper Himalayan region of state Uttarakhand and also population is not like other Indian cities so daily commercial flights are not still operated from here.