Ranikhet has a centuries old royal and colonial heritage which is filled with beautiful green meadows.  A legend says that a kumaoni queen was infatuated with the small hill station of Ranikhet, so a palace was built in her honor. That's why this hill station came to be known as "The Queen of hills". Interestingly about Ranikhet, Ranikhet Golf Course is one of the highest in Asia and the view of the rolling meadows of the course is mind-blowing.
A beautiful hill station of Ranikhet is located in Almora district of Uttarakhand state. Ranikhet gives a picturesque view of hill station surrounded by deodar and oak forests, lush green meadows, attractive wildlife and delicate plant life. For this reason, this place is very much liked by filmmakers.
Ranikhet is a paradise for nature lovers, situated in the lap of kumaon hills of Uttarakhand at an altitude of 1869 meters above sea level. The snow clad central Himalayan ranges can be clearly seen from this place. Along with this, different types of birds and amazing beauty of the rural surroundings is the center of attraction which is away from urban noise and pollution. So I would suggest you to visit Ranikhet to get relief from the rush and heat of the city.
Apart from this you can enjoy some adventure acitivities like Paragliding, Burma Bridge, water Balls, various types of swings and flying fox, etc. These activities are facilitated in Ranikhet which is 12km from Ranikhet city bus stand. It is spread over an area of up to 1000 acres which you can enjoy after visiting Ranikhet.
What is Ranikhet famous for?
Ranikhet is one of the famous and quite hill station of kumaon region of uttarakhand state. It is one of the famous destination for nature lovers as ranikhet is surrounded by beautiful pine forest. The view of himalaya from ranikhet is amazing with lot of places to visit with your family. It is an ideal destination for visiting with family and friends.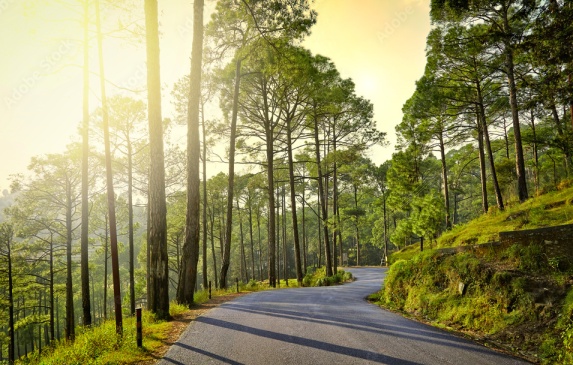 Best time to visit Ranikhet
Summer is the best time to visit Ranikhet because here you can enjoy a bit of chill even in summer. If you want to enjoy snowfall in Ranikhet, then you should come during winter (November to February) because at this time Ranikhet receive snowfall. Although Ranikhet can be visited at any time of the year except during the rainy season because every season of Ranikhet is delightful to visit.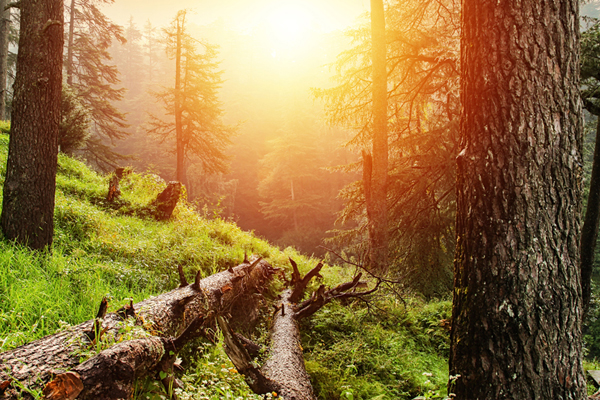 By Road – Ranikhet is situated in the Almora district of Uttarakhand. It is very well connected to rest of India through network of Roads. From Delhi and Rishikesh, Buses are easily available to Almora, Kathgodam and Nainital. After that, you can take buses or taxi from Nainital, Kathgodam and Almora to Ranikhet.
By Train – The nearest railway station is Kathgodam Railway Station which is 86 km away from Ranikhet and many trains connect to Kathgodam from various cities of India like Rishikesh, Haridwar and Dehradun.
By Air – The nearest airport for Ranikhet is Pant Nagar Airport (115 km).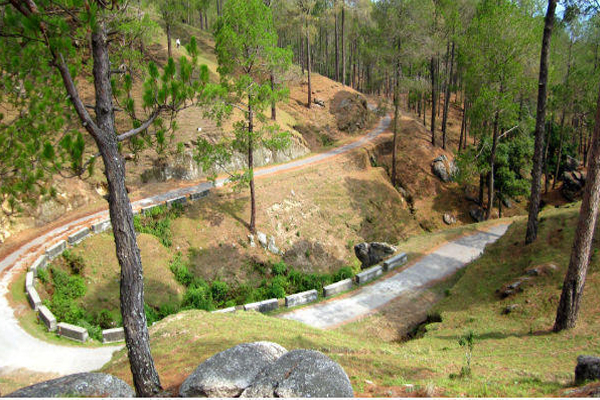 Stargazing-  One can enjoy stargazing in Majkhali village which is 10km away from Ranikhet. It is also of the most popular sites for stargazing in the Ranikhet.
Jungle Safari- Ranikhet is surrounded by forests of pine, Oak, and deodar trees. These forest are home of some animals including leopard, deer, langoors, mountain goat, etc. If you are interested to drive around Ranikhet, you may get a chance to see these animals. You can also hire local guides for guiding.
Trekking – There are some famous trekking spot in Ranikhet that everyone can explore with family friends and loved one's. Trek starts from Chaubatia orchards to Holm farm which is quite popular among tourist and other trekking tails includes from Chaubatia to Bhalu Dam, Meghdoot to Jhula Devi temple, and Raniket club to Chevron Rosemount.
Fishing-  Bhalu Dham is situated few km away from Chaubatia, which is a perfect place for fishermen to catch some fishes. For catching fishes, everyone will take permission from the Chief Wildlife Warden. 
Golfing- Ranikhet is one of the best hill golf courses in the country and situated 5km from the town of Ranikhet. This is an army courses but civilians can also take admission in nominal fees.
Adventure activities- You can also enjoy some adventure activities like Paragliding, boating, biking, Burma Bridge, water Ball, various types of swings, jobbing and flying fox, etc in Ranikhet.
Places to visit in Ranikhet
Chaubatia Garden is situated about 10 km south of the cantonment town of Ranikhet in Almora district. It is located at the height of 1800 meters above sea level within the sight of Western Peaks of the Himalayas. The name Chaubatia literally suggests the junction of 4 places- Bhargaon, Ranikhet, Dehrti and Pilkholi. It is located in the laps of Himalayan ranges and also offers scenic views of the peaks of Nilkanth, Nandaghunti, Nanda Devi and Trishul.
Chaubattia is best known location of a botanical garden and fruits which are popular among tourists to the region. The garden contains juicy fruits like apples, peaches, plums, apricots and many more. This garden is also home to a Government Fruit and Vegetable Research Centre, which runs the fruit orchard.
This Golf Course is one of the highest in Asia and also known as Ranikhet Golf course which is located around 6km from Ranikhet. It is situated near Ghingari Khal and watched after by the Kumaon Regiment.
This Golf Course is 9-hole golf course which shows well-trimmed green grass on the golf course. It also offers various membership plans for outsiders at a nominal fee. En route of this golf course, you will see the stunning view of royal Himalayan ranges. Apart from this, the green field of the golf course is a prime attraction among tourist.
Haidakhan Babaji Temple is dedicated to the Haidakhan, who believed to be an avatar of Lord Shiva. This temple was built by Haidakhan himself and also is one of the best places to visit in Ranikhet. This temple proudly shows a tall model of Lord Hanuman and Lord Shiva. 
Haidakhan Babaji was simply called Babaji by his students and followers. He was a religious teacher who appeared near the Haidakhan village and taught publicly from 1970 to 1984. Haidkhan Babaji's followers considered Babaji as Mahavatar that he is a God in the form of human. In 1984, he left his mortal at an early age.Other than main temple, the temple has five guest houses along with the Sri Babaji's Kutir, an Italian temple, and the Sri Baba Research Hospital.
Temple is must visit during Navratra and in the evenings on all days. Navratra is celebrated with great enthusiasm with Yag on all 9 days here, Satsang and bhajan happen in every evening during Aarti.
Bhalu Dam is a small artificial lake situated at a distance of 3 km below from the Chaubatia Garden and 11km from Ranikhet. This lake offers scenic views of the snow-capped mountains of the Himalayas and vegetation around it with a beautiful garden to relax. 
This dam was constructed by the British Government in the year 1903 to quench the thirst of the soldiers.
This place is one-off and fully perfect for camping, stargazing and those people who seek of inner peace. That's why tourists keep coming here throughout the year.
Jhula Devi temple is an oldest temple situated at a distance of 7 km from Ranikhet. This temple is another major attraction among tourists. The Jula Devi Temple is devoted to goddess Durga. This temple is well-known for designed bells.
The innumerable bells hanging around the temple premises represent the divine and sorrow-ending powers of "Maa Jhula devi". It is believed about Jhula Devi enshrined in the temple that Jhula Devi fulfills the wishes of her devotees and after fulfilling their wishes, devotees come here  to offer copper bells, the melodious sound of the bells make everyone happy.
According to Hindu mythology, this temple was built with the aim of invoking the blessings of Maa Durga to free from the harassment of wild animals living in the area. The goddess is worshiped by the name "Jhula Devi" because of the swing established in the temple premises.