Rishikesh (Hrishikesh) is a famous tourism spot in Uttarakhand state which is situated at an altitude of 1360 feet above the sea level. It is one of the holiest pilgrimage centers in India. The sacred River Ganga flowing through this religious place surrounded by the foothills of the Himalayas and natural beauty makes it incredible. Rishikesh is a small town of Dehradun which is considered as the doorway to the Garhwal Himalyas.
Rishikesh is an ideal destination not only for pilgrims but also for those who wish to delve deeper into spirituality, yoga and other aspects of ancient practices. The sacred river and mountains make an ideal stage for yoga and contemplative hikes that's why every year a large number of pilgrims come to the ashrams here for mediation and peace of mind. A large number of yoga centers provide meditation training and help to recovery of mental and physical health. For this reason, Rishikesh is also known as the "Yoga capital of the world".
In 1960s, Rishikesh become popular worldwide because Beatles visited the ashram of Maharishi Mahesh Yogi. After some time, this ashram became famous as  The Beatles Ashram  which globally attracts to tourist. Many local people, visitors as well as foreigner visit this place for spirituality and peace.
What is Rishikesh famous for?
Religion and culture- You can perform religious activities in several famous religious places like Neelkanth Mahadev Temple, Triveni Ghat, Lakshman Jhula, Tera Manzil Temple, Geeta Bhawan, Bharat Mandir, Muni Ki Reti and many more. You can also celebrate festivals in Rishikesh because festivals are the big part of the Rishikesh culture and city celebrates many festivals all over the year with great excitement and enthusiasm.
Yoga- Rishikesh has been called the birthplace of yoga and today it is widely practice all over the world because yoga provides peace of mind and body.
Best time to visit Rishikesh
The best time to visit Rishikesh is in the months of May to June because River Rafting is more active during this time, so you will be able to enjoy your vacation to the fullest. March is also a good season to visit because the weather remains moderate. Although, Rishikesh can be visited at any time of the year except during the rainy season.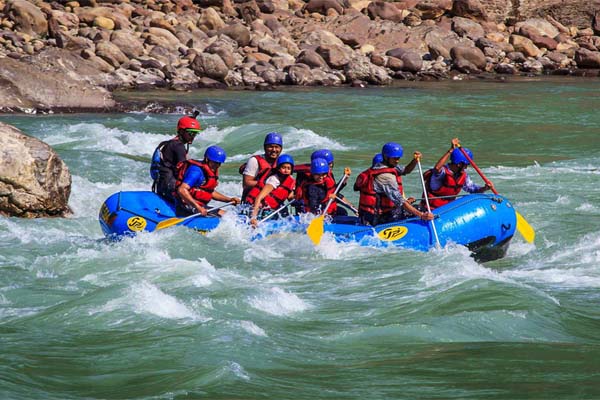 By Road – Rishikesh is very well connected to rest of India through network of Roads. From Delhi, Haridwar and Dehradun State transport buses are directly available to Rishikesh.
By Train – The nearest railway station is Rishikesh Railway Station and many trains connect to Rishikesh from various cities of India.
By Air – The nearest airport for Rishikesh is Jolly Grant Airport, Dehradun (21km) away from Rishikesh.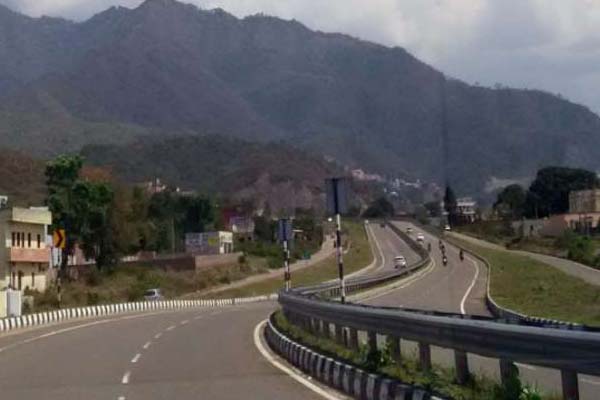 Worship: There are several religious places like-Neelkanth Mahadev Temple, Triveni Ghat, Lakshman Jhula, Tera Manzil Temple, Geeta Bhawan, Bharat Mandir, Muni Ki Reti and many more temple where you can worship.
Yoga: You can do yoga in different yoga centers who providing meditation training and help to recovery of mental and physical health.
Photography: you can capture the divine beauty of nature in photographs and make your day memorable.
Adventure Activities: You can participate in any kind of adventure activities like Whitewater Rafting, Mountain Biking, Trekking, Rappelling, Rock Climbing, Hiking, Bungee Jumping and many more , but your age must be 15 years or above. Some adventure activities have a minimum age limit of 18 years.
Places to visit in Rishikesh
Lakshman Jhula is a popular hanging bridge over the Ganga River which connects two districts – Tapovan in the Tehri Garhwal and Jonk in the Pauri Garhwal and nowadays Lakshman Jhula is the oldest route to go to the godly spot of Badrinath and Kedarnath.  It is situated in the Rishikesh town. Lakshman Jhula is 450 feet long and is made up of iron rope. It is positioned at the height of 70 feet from the river where pedestrains tourist or devotees are allowed to come here but bikes, cars, heavy vehicles are prohibited.
Around the Lakshman Jhula include the Raam Jhula, Terah Manzil temple, the Lakshman temple and Bharat temple the whole area booms with the sounds of the mantras and shlokas from the temple.
There is another bridge named Ram Jhula in Rishikesh itself. Ram Jhula is a famous hanging bridge over the holy Ganga river in Rishikesh which connect two districts- Sivananda Nagar of Muni Ki Reti in Tehri Garhwal to Swargashram in Pauri Garhwal . It's spread 750 feet and positioned 2 km above the river because of an impressive work of engineering which is made up of an iron rope. This bridge is bigger than lakshman Jhula which connects the religious ashrams on both sides of the river. Bridge offers a marvelous view of the Ganga and peaceful of the Himalayas.
Triveni Ghat is located on the bank of holy Ganga River. It is the place where the three holy rivers Ganga, Yamuna, Saraswati meet. The devotees should take a dip in the holy waters of the ghat before going to the temples of Rishikesh. According to people's belief, taking a dip here gives freedom from sins and devotee also offerings milk to the river and feeding the fishes in the Ghat.  Triveni Ghat is the biggest Ghat in Rishikesh where Maha Aarti is held in every evening. In every evening, thousands of pilgrims gather at this Ghat for the Maha Aarti where Aarti is performed by the bhajans and offered prayer to the goddess Ganga and is celebrated by rhythmic bells and drums. It is conducted from 6 PM to 7 PM every day.  Pilgrims place flowers and lamps in bowl as a reverence and float them in the river and a ritual called pind Shradh is also performed at this place for the peace of soul.
Neelkanth Mahadev Temple is one of the most famous hindus temple and is devoted to Lord Shiva which is located at 32 km from Rishikesh. It is situated at the foot hill of the Himalayas in Garhwal region. Neelkanth Mahadev Temple is a major tourist attraction place. This temple is surrounded by forest and is closest to the Nar-Narayan mountain ranges and it is surrounded between the Manikoot, Brahmakoot and Vishnukoot valley. Neelkhanth Mahadev Temple is visited by many devotees all over the world.
Mythology- As per Hindu Mythology "Lord Shiva" drank the poison which came out at the churning of the ocean (samundra  manthan) at this place. After drinking the poison, his throat turned blue and he was known as "Neelkanth" because of his throat turning blue. 
Beatles Ashram is also identified as Chaurasi Kutiya or Maharishi Ashram in Rishikesh. When the whole world was crazy about the Beatles, there was something in India that attracted the Beatles. It was nothing but an unknown religious place. The world famous Beatles band was completely immersed in transcendental meditation. The Beatles group stayed at Maharishi Yogi Ashram for many days and wrote dozens of songs due to which this ashram came to be known as Beatles Ashram.
Beatles Ashram is an ancient temple and home of Maharishi Yogi which also has library, kitchen and meditations huts. This Ashram is situated on the eastern bank of the Ganga River and opposite the Muni Ki Reti of Rishikesh. In this Ashram there are colorful arts on the walls, beautiful black and white photographs of the Beatles by the Canadian Artist and also has small cafe.
Along with this, the atmosphere of this ashram is very peaceful in which tourist can use this place for nature walk and watching beautiful birds too.  
Swarg Ashram is the oldest ashram established in the memory of Swami Vishudhanand. Swamiji was also known by the name Kali Kamali Wale Baba. This ashram is situated at a distance of 5 km from Rishikesh on the eastern bank of the river Ganga. This is very trendy place among foreigners as well as local people because of its culture. There are many ashrams and temples inside in it which is famous for Meditation and yoga center where we can find serenity through religious activities, meditation, chanting of mantras, etc.  Aarti and Bhajan are also performed inside the Swarg Ashram. This ashram has park, stores, tea-coffee shops, Ayurvedic dispensaries, libraries, meditation centers, hotels and restaurants, and many other small ashrams within its premises.
Parmarth Niketan Ashram is one of the best yoga centers in India which is situated on the eastern bank of the river Ganga in Rishikesh. It was created in the year 1942 by Swami Shukhdevanand Saraswati. This ashram is the biggest ashram in the Rishikesh and famous for Hawan on the Parmarth Ghat and every morning and evening Aarti is performed with chanting of Mantras and prayers of goddess Ganga Maa. It is heaven of all living beings where we can find serenity through religious activities, yoga, meditation, Ayurveda, Kirtans, Ganga Aarti, Satsang, kirtan, chanting of mantras, etc. Foreigners and local people come here in search of spiritual happiness.
Parmarth Niketan gives 1000 pilgrims who come from all over the world with beautiful garden as well as fresh environment and there is no discrimination on the basis of gender, nationality, caste, religion, etc. In this ashram they emphasize peace, health and connect with the inner soul, harmony, unity and they also provides modern comfort and traditional facilities to you.
River Rafting is an entertaining outdoor activity and can be enjoyed by any group whether it's families, friends, schools, colleges, or corporate. Anyone can raft in Rishikesh whether they are beginners or experience but their age must be 15 years and above.
Rafting is very good to do in summer because water of the river is too cool and weather is pleasant and suitable for rafting in summer that's why a large number of tourists reach every year in summer. Tourists also can raft throughout the year excluding monsoon season.
When you fulfill all the condition then you should raft in Rishikesh and enjoy short and long rafting trip with four Rapid Grades in Rishikesh. Along with this you can feel dazzling beauty of the Ganga River and mesmerizing views surrounding the river during rafting.
Short and long rafting distance with Grades-
Brahampuri to Rishikesh- 39km under Grade I
Shivpuri to Rishikesh- 16km under Grade I-Grade II
Marine Drive to Rishikesh- 26km under Grade II –Grade II
Kaudiyala to Rishikesh- 35 km under Grade II- Grade IV