Yamunotri is located in Uttarkashi (district of Uttarakhand) in Garhwal Himalayas at the height of 3,293 meters (10804 feet) above sea-level which is surrounded by mountains on all sides and lies near of the Indo-China border. Yamunotri is situated at a distance of 278 km from Dehradun, 236 from Rishikesh, 21 km from Sanya Chatti and 176 from Chamba. Yamunotri stands proudly with its huge mountain peaks, glaciers and holy water of Yamuna. It is known for offering serenity or relief to its visitors and it is the source of the Yamuna River which is second topmost holly river of India devoted to Goddess Yamuna.
It is one of the most important pilgrimage places in Hindu religions and also a part of Char Dham Yaatra (including Badrinath, Kedarnath and Gangotri). The main attraction of Yamuntori among devotees is the Yamuntori Temple, which is dedicated to Maa Yamuna. The Yamunotri temple attracts thousands of devotees every year and is the starting point of the Char Dham Yatra, which travels from Yamunotri to Gangotri and finally to Kedarnath and Badrinath.
The another attractions at Yamunotri are the Tapta Kunda, Surya Kunda, Draupadi Kunda and Divya Shila where the devotees have a bath before visiting the temple. According to Hindu, it is believed that, the devotees who do this pilgrimage with dedication and purity, they get relieved from the life cycle.
What is Yamunotri famous for?
Yamunotri Dham is famous among devotees and tourist as pilgrimage, holy river Yamuna and Char Dham Yaatra (other three dhams are Gangotri, Kedarnath and Badrinath).
Mythology about Yamunotri
According to the earlier time, it was the residence of Sant Asit Muni. Sant Asit Muni bathed at both Ganga and Yamuna River during whole time of his life but he became old at a time, he could not travel daily to the Ganga river for a  bath that was the reason a stream of Ganga River appeared just opposite the Yamuna river for him.
Another believe is that Goddess Yamuna is the daughter of the Lord Surya (Sun) and Goddess of perception (Sanghya). She is twin sister of the Yam (God Of Death). In the Vedas Goddess Yamuna signified to as Yami means the lady of life. Yamuna was named by Surya Dev who felt insulted when Goddess Sanghya couldn't see in the eyes due to his bright light. She flickered when she was trying to best to open her eyes in front of Surya Dev. Surya Dev blessed the Yamuna that she will be worshiped as a Goddess Yamuna and always be remembered because she tried to open her eyes that time. Goddess Yamuna also inherited the nature through this incident.
Opening and closing time of Yamunotri kapat
The temple remains open for 6 months from May to October every year. The sculpture of Maa Yamuna is shifted from Khusimath to Yamunotri on Akshya Tritiya. During the rest of six month Nov to May and the occasion of Bhai Dooj, the sculpture of Maa Yamuna is shifted from Yamunotri to Khusimath and worshipped there.
In open days, the temple is open from 4:30 pm to 8 pm but it opens for the general public for darshan (visit) at 7:00 am and has a break in the afternoon between 1:00 to 2:00 pm. In the temple, morning aarti held at 6:30 am but the daily worship rituals at Yamunotri Temple begin at around 4:30 am and end with Shayan (evening) Aarti at around 7:00 pm.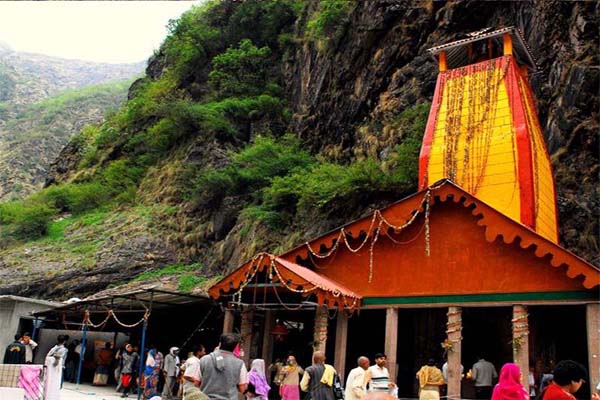 Best time to visit Yamunotri Dham
Yamunotri Temple Kapat (door) remains shut down for around six month (Nov to April) due to heavy snowfall. Although, the temple can be visited only for six months (May to Oct). It is believed that May to June is the best time to visit Badrinath as there is almost no rain during this time and you can enjoy a bit of chill even in summer.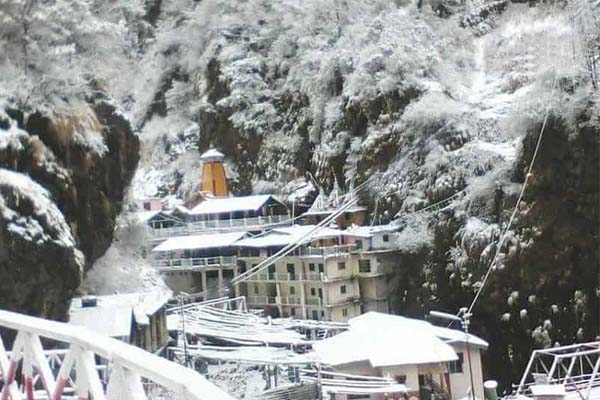 By Road – Yamunotri is in the Uttarkashi (district of Uttrakhand) which is very well connected to rest of India through network of Roads. State transport buses are also available directly from places like Delhi, Dehradun, Haridwar, Rishikesh to Yamunotri.
By Train – Rishikesh, haridwar and Dehradun Railway Station is the nearest railway station and these trains connect from various cities of India.
By Air – The nearest airport for Yamunotri is jolly Grant Airport Dehradun.
Places to visit in Yamunotri
Yamunotri Temple is dedicated to Goddess Yamuna which lies in the western Garhwal Himalayas at a height of about 3,291meter above sea level. Yamunotri Temple is a prime attraction of the ancient city of Yamunotri and considered as the birthplace of River Yamuna (second most holy river of India).
Yamunotri temple is one of the most important pilgrimage places in Hindu religions and also a part of Char Dham Yaatra (including Badrinath, Kedarnath and Gangotri). It attracts thousands of devotees every year. According to Hindus, it is believed that, the devotees who do this pilgrimage with dedication and purity, they get relieved from the life cycle.
Inside the temple, there is an idol of Goddess Yamuna made of black marble, which is beautified with garlands. There is also a sculpture of Goddess Ganga in white stone beside to the idol of Goddess Yamuna where devotees gather and offer prayers. Other than beautiful temple, pilgrims can visit enormous mountain peaks, gushing water of the holy river Yamuna which offer peace and tranquility.
The temple is only accessible at a trekking distance of 13 km from the Hanuman Chatti and 6 km from Janki Chatti or it can be done by renting horses, palanquin (carrying people) or mule.
Many hot water springs are very close to the Yamuna Temple, The Surya Kund is the most substantial among them. Surya Kund holds the hot water springs which appears from the mountain rift.
The hot water spring used to cook rice or potatoes by tying them in a muslin cloth. People consider it as Prasad.
This hot water spring gets its name from Yamuna River (daughter of sun) which considered to the descendants of Surya Dev as per Hindu Mythology. Surya kund performed as a holy place as it is situated in the vicinity of Yamunotri Temple. This kund is surrounded by snowcapped mountains which offer picturesque view and majestic environment.
Divya Shila also recognized as the "Slab of dive light". This is a holy stone situated nearby to the Yamunotri Temple and Surya Kund. Pilgrims worship Divya Shila before entering in the Yamunotri Temple and Prasad is offered on Divya Shila which cooked at Surya kund.
Janki Chatti is very popular among pilgrims who travel to Yamunotri during Chaar Dhaam Yaatra. Janki Chatti is at a distance of 5 km away from Yamunotri and 8 km Hamunan Chatti. It is a small town situated on the way to Yamunotri Temple. The town is surrounded by mountain peaks which offer a scenic and mesmerizing view.  It is the midpoint to Yamunotri which is easily accessible by Jeeps and also palanquins are available.
Janki Chatti is situated at the height of 2650 meters above sea level and is famed for its many hot water springs.  These hot water springs considered very sacred, where pilgrims take a dip in the hot water springs before visiting the Yamunotri.
Hanuman Chatti is very popular among pilgrims who travel to Yamunotri during Char Dham Yaatra because it is a small town situated on the way to Yamunotri Temple.
It is located at a distance of 13 km from Yamunotri  and on the Hanuman Ganga and Yamuna River meets. Hanuman Chatti was the beginning point to  Yamunotri before the Janki Chatti road was made. From May to October, a large number of devotees visit the Hamunan temple for darshan at Hamunan Chatti.
Hanuman Chatti is visited by travelers because it is a famed trekking spot in this region. Apart from Yamunotri, the best trekking trip of Hanuman chatti is towards Darwa Top and Dodi Tal.
The untouched village of Kharsali, is in Uttarkashi district of Uttarakhand, is also known as 'Khushimath'. The tiny village, Kharsali is situated 1 km from Jankichatti at an altitude of 2,675 meters above sea level. This place is popular for picnic spot among travelers due to natural surroundings covered with natural springs and snow- capped mountains. It is also a good camping destination with some luxurious camps located here.
Kharsali (the winter seat of Goddess Yamuna) is known as the abode of Goddess Yamuna during winters because the Yamunotri temple becomes inaccessible in winters due to heavy snowfall, so the goddess is brought here for worship.
Kharsali is also home to India's oldest Shani Dev Temple where the idol of Goddess Yamuna is enshrined during winters. Devotees and travelers visit Yamunotri after having darshan of Lord Shani during the Char Dham Yatra.
Saptrishi kund is a lake, situated around 10 km from Yamunotri at the height of 4,412 meter above sea level and is the actual source of Yamuna River. This lake is fed by the Champasar Glacier, perched in the upper parts of the mountain range. This icy lake is 500 meter long, enclosed by Rocky Mountains and glaciers peaks and one has to go through an arduous trek to reach here.
The trek trails goes through dense forests, beautiful meadows and rare Himalayan wildlife. This trek is still unexplored and most of the trekkers have not completed this trek.